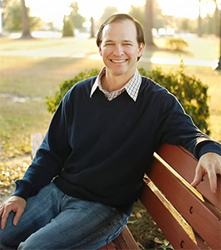 Richmond Hill, GA (PRWEB) August 02, 2014
The effects of periodontal disease can now be easier than ever to control thanks to LANAP® laser gum surgery in Richmond Hill, GA offered by Dr. Justin Bordlemay and his staff at Coastal Empire Periodontics. Untreated gum disease can damage the oral environment to the point where jaw bone density and teeth can be lost, making treatment of a gum infection an important way to ensure long term oral health; this treatment makes maintaining healthy gums a simpler, minimally painful reality for many patients.
The gum tissue and jaw bone provide critical support for teeth, and patients who have periodontal disease are in danger of gum and bone deterioration to the point of where the teeth lack their needed support and must be extracted. This then can cause other issues for patients. Both the functional and cosmetic aspects of teeth are lost immediately and if missing teeth are not replaced by implants, the associated jaw bone no longer receives the stimulation that it had prior from the tooth roots. Without this, the bone can begin to resorb and cause a sunken in appearance as well as potential issues with speech and eating.
Many people may fear traditional gum surgery that requires cutting of tissue, stitches, and a long, painful recovery period. Laser gum surgery in Richmond Hill, GA with the LANAP® protocol can eliminate those concerns for people as it effectively treats periodontal disease with no cuts, no stitches, and almost no discomfort. The exceptionally fast recovery process even allows most patients to leave the dental office and go about their days normally as if they had only gone in for a teeth cleaning. LANAP® treatment offers a far simpler method of keeping gums healthy and generating bone regrowth, which in turn may prevent future tooth and further jaw bone loss.
People who have struggled with periodontal disease are encouraged to contact Coastal Empire Periodontics to learn more about laser gum surgery in Richmond Hill, GA and how it may help them improve their chances of saving valuable teeth and jaw bone. Dr. Justin Bordlemay and his staff are proud to be among the nation's leading practitioners who offer the LANAP® laser treatment option.
About the Doctor
Coastal Empire Periodontics is a periodontal practice providing personalized dental care for patients in Richmond Hill, GA. Dr. Justin Bordlemay received his DMD from the University of Pittsburgh in 2001. After dental school, Dr. Bordlemay served in the United States army as a general dentist for two years prior to entering into specialty training. In 2006, he received his certificate in periodontology from the Army Periodontics residency located at Fort Gordon, GA. Dr. Bordlemay is proud to bring state-of-the-art dental technology to his patients, including the LANAP® protocol. Only one percent of dental professionals in the country currently offer LANAP®, the first FDA-cleared laser procedure for gum disease and periodontal treatment. To learn more about the dental services offered by Dr. Bordlemay, please visit his website at http://www.coastalempireperiodontics.com or call 912-225-5788.