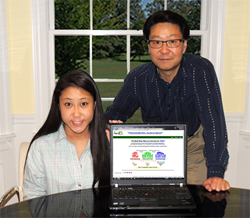 Smarter Social Networking... The Way It Is Meant To Be
Fairfield County, Connecticut (PRWEB) August 06, 2014
The Portalz is a new social network that sets itself apart from other social networking platforms with its emphasis on responsibility, privacy, and safety. Unlike other sites, individuals do not directly sign up for a user account, but rather sign up for an administrative account that will allow them to create user accounts on behalf of others. They can then classify these accounts into one of three age-appropriate categories to ensure maximum privacy and safety.
The Portalz has 3 separate age-based communities for peer to peer interaction. Administrators assign individuals as "Tweens," "Teens," or "Adults" when their user accounts are created. The Portalz also supports the creation of private social networks, and individuals who share a common administrator are automatically grouped together into their own private social network.
"Now everyone can socialize within communities made up of peers," says Bill Yee, co-founder, "while private social networks will keep family members in closer contact, provide businesses and organizations with better collaboration for tasks, and give individuals with common interests extra options for privacy. We have re-structured the social network paradigm and it is up to people to re-define how this social network may be of service."
A separate channel of communication called a "Linked Private Social Network" can also be created by joining or combining different private social networks together as a single unit. Members of a Linked Private Social Network have access to exclusive social interaction that is above and beyond what is offered within a single community or private social network.
"The Portalz offers more control than other social networking platforms, which translates to both greater privacy and better collaboration," says teenage co-founder Julianna Yee. "All information is important, and being able to determine how and with whom you can interact gives it value. If anyone currently has an account with another social network like Facebook or LinkedIn, then they should also sign-up with us because you give up nothing and have much to gain. It doesn't have to be a one-or-another kind of decision."
About The Portalz
ThePortalz.com is a social network that was formally launched in summer 2014 after years of development. It was created as a way to offer individuals, families, and businesses a better social networking experience with the best in privacy, safety, and collaboration. Julianna Yee, the network's teenage co-founder, conceived the vision for The Portalz while still a tween and after years of development would break ground with collaboration from fellow co-founder Bill Yee.