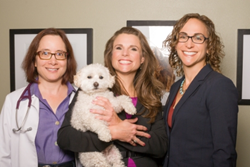 'The directory includes only veterinary specialists who have received board certification from the credentialing college for their specialty. This reduces the chances for pets to be given misdiagnoses or improper care.'
Boise, ID (PRWEB) July 31, 2014
Boise internet startup, PetsPage.com, received record numbers this week after the Friday, July 25th launch of its new "Find A Vet Specialist" feature. The directory links millions of pet owners nationwide with essential services from Board Certified Veterinary Specialists in their area. The directory is also a trusted resource for any pet owner traveling throughout the US who may need special attention for their beloved pet. 8,121 new PetsPage.com members, as well as pet lovers seeking more information, were directed to the site from a nationwide PSA that began airing on Animal Planet that same Friday.
The focus of the Find A Vet Specialist directory is to educate pet owners about the life saving services that only a board certified veterinary specialist can provide beyond the care of their general practice veterinarian.
The Find A Vet Specialist directory, located at petspage.com/directory, features an easy to navigate US map that allows you to click any state and find veterinary specialists and animal hospitals within. The new feature is in its first week and has already catered to thousands of individuals seeking more information. The directory is updated daily as new hospitals and specialists are added to the directory. There is also a link to learn more about what specialists do as well as the story of Tinks, PetsPage.com's beloved mascot and reason that Karen Bostick, Founder and CEO of PetsPage.com, created the interactive online social community and directory.
"Now that pet owners have a resource for veterinary specialists and hospitals, we can educate even more pet owners about this crucial field," Says Bostick. "The directory includes only veterinary specialists who have received board certification from the credentialing college for their specialty. This reduces the chances for pets to be given misdiagnoses or improper care."
PetsPage.com was created after Karen Bostick's dog Tinks almost fell victim to a rare disorder in 2009 and she was not referred to a veterinary specialist. As the daughter of a veterinarian herself, Bostick grew up in the pet care industry but was unaware that veterinary specialists existed until it was almost too late. Bostick found out just in time and rushed Tinks to WestVet Specialty and Emergency hospital in Garden City, Idaho to seek treatment from Dr. Victoria Ochoa, DVM, MS, DACVIM a veterinary internist. Bostick was extremely frustrated that Tinks was not referred soon after his diagnosis of an often fatal disease. Roughly, 40 to 70 percent of pets die from this rare disease.
While it is not known how many animals fall victim to preventable death due to lack of knowledge or referrals to veterinary specialists, Dr. Joanne Intile DVM, MS, DACVIM with PetMD.org writes in her June 27th 2014 article that she comes into contact regularly with pet owners who have lost their companions because they did not have the knowledge needed to make a sound decision about what is in their pet's best interests.
"I sincerely urge owners to seek referral to a specialist when offered, but also consider asking for a referral when they want to learn more about their pet's health," writes Intile. "Likewise, I urge primary care veterinarians to discuss cases with your local specialists to be sure, as frontline consultants, you are providing the most accurate information to owners."
Whether you are a pet owner, or know someone who is, the Find A Vet Specialist directory, now available as part of PetsPage.com's online community, can provide you with the information necessary to make healthier decisions for you and your pet.
PetsPage.com is an online "social pet community" founded by Karen Bostick in Boise, Idaho in 2013. As the world's fastest growing social network for pets. PetsPage.com is a place where pet lovers from all over the world come to share, socialize, and most importantly, smile! PetsPage.com is free for all pet lovers, pet businesses and social pets.
# # #
If you would like more information about this topic, please visit PetsPage.com/about-us or contact Casey McManus or Karen Bostick at (208) 514-4757 or email media(at)petspage(dot)com.