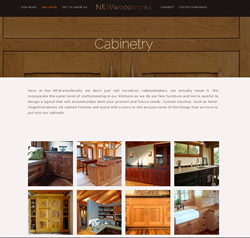 The website for NEWwoodworks will showcase their fine woodworking capabilities and their custom designs.
Shortsville, NY (PRWEB) July 31, 2014
NEWwoodworks, fine woodworking group at New Energy Works Timberframers, is expanding their brand presence with a website dedicated to highlighting their craft and their people. For over 20 years, NEWwoodworks has specialized in handcrafted cabinetry, furniture, stairs, doors, and other custom designed interior furnishings. NEWwoodworks has earned a reputation for taking on the remarkable, challenging projects that few woodworkers would dare take on. They commonly craft with reclaimed wood, often using near extinct species such as Chestnut and Elm, sourced from their sister company, Pioneer Millworks.
"The website for NEWwoodworks will showcase their capabilities and their work in custom design as well as allow them an opportunity to share new lines of products," explained Megan Dean, Marketing Manager at New Energy Works. "With over 20 years in the business, this group has built a reputation for unique and challenging work which we are excited to be highlighting."
The new website's galleries feature the group's work in cabinetry, doors, stairs, live edge, counters and tops, fixtures, furniture and custom signs. With a majority of NEWwoodworks projects being custom made, they inspire designers and homeowners across the nation in residential and commercial projects. With the addition of a Thermwood MTR-30 CNC router, NEWwoodworks is able to accurately replicate large volumes of common components such as casements for cabinetry and doors. The future will bring a standard line of products that can be virtually built through the website then in real life by the group's seasoned artisans.
"The CNC will allow our craftsmen to be more productive, even with high custom designs like our live edge cabinetry," explains Rob D'Alessandro, General Manager at NEWwoodworks. "Complex joinery, carvings, curves, and even typical furniture parts can be created more quickly leaving us free to focus our unique capabilities, on details, fit, and finish."
The website also offers a glimpse inside the NEWwoodworks shop, an introduction to their people, and opportunities to view the work of their sister companies, New Energy Works Timberframers and Pioneer Millworks.
NEWwoodworks has been the fine woodworking division of New Energy Works Timberframers for over 20 years. The group is well known for their expertise in handcrafting elements for timber frame homes and constructing projects with reclaimed and extraordinary wood. They specialize in custom crafting cabinetry, furniture, stairs, doors, and other custom woodworking that is unique to the individual and harmonious with the project design.
New Energy Works Timberframers have been designing and building environmentally responsible timber frames across the USA for nearly 30 years from their facilities in New York and Oregon. Offerings include: Timber Framing (design, engineering, manufacturing, build), Enclosure Systems, Fine Woodworking, Recycled and Sustainable wood products. New Energy Works has a LEED AP staff member, is a member of the US Green Building Council and is FSC Certified.