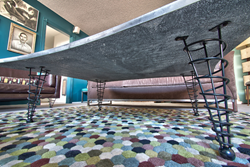 ...it makes sense for us to look to mid-century modern for inspiration. It represents a peak in well-made design.
(PRWEB) August 05, 2014
Danish club chairs. Flying saucer lamps. Pop-art wallpaper. If you were born after the baby-boomer era, you probably didn't grow up with mid-century modern furnishings. But this once-prevalent style from the 1950s and '60s is more popular than ever and being embraced by a whole new generation of consumers, said the manufacturer of Spiral Cone Legs furnishing accessories—a contention also borne out by others in the home decorating industry.
Historically, mid-century modern design became popular after World War II, when a weak economy forced consumers to downsize and simplify their lives. This simplification led to functional furnishings with clean, geometric lines and minimalistic construction as well as high-intensity colors such as avocado, mustard and citrus orange.
While mid-century modern design has enjoyed waves of popularity ever since, none compares to its current status. Lance Stephenson, founder and maker of Spiral Cone Legs, noted that mid-century modern for many consumers denotes quality.
"As the-mid-century modern era was drawing to a close in the 1970s, we found ourselves on a downward slope in manufacturing. While it should have been a robust beginning to thoughtful furnishings, a trough followed in which there was a decline in quality," Stephenson said. "So it makes sense for us to look to mid-century modern for inspiration. It represents a peak in well-made design. With mid-century modern furnishings, there's no façade hiding poor workmanship. What you see is what you get."
Stephenson added that manufacturing something with the goal of making it functional will almost always make it beautiful, too, as mid-century modern demonstrates so well.
"The goal of designers of that era was to create something that efficiently did the job with the least amount of materials. Functionality was the goal, but their creations were also things of beauty and elegance," Stephenson stated. Thankfully, we're starting to see this combination again in manufacturing, he added, noting that both the supply and demand of quality goods are on the rise.
Because they're so well made, original mid-century modern furnishings can be found in excellent condition in antique and thrift stores, at estate sales and on the Internet. But there also is a demand for new products that reflect mid-century modern characteristics.
Repurposed or new, mid-century modern today has developed into a "classic" style, much like Early American and Country French designs, said Jeff Dross, corporate director of education and industry trends at Kichler Lighting.
"While there is a portion of the population that was around when these designs were first created, the clever use of color, geometrics and foundations in hand-crafted work are now appealing to a new generation with a less tangible connection to the original," Dross said. "Their cleverness is as fresh today to this new buyer as it was to the original consumer."
Donna Frasca, a Charlotte, N.C., interior designer and blogger (http://www.decoratingbydonna.com), reported that the demand for mid-century modern design comes from clients of all ages.
"It's from younger people who have enough money to invest in a furniture style that will be classic and timeless and one that they can build on over the years as their budgets allow," Frasca said. Additionally, "Mid-century modern furniture is perfect for retired clients who are looking to downsize and just want a few classic pieces in their home to accommodate a smaller residence."
Of course, not all customers know that their tastes have actually time-traveled.
Stephenson concurred that his customers cross generational lines, but not everyone knows that his products are influenced by mid-century modern design. Spiral Cone Legs are an alternative to the traditional furniture leg that allow consumers to "update" the look of their sofas, tables and other furnishings. Each of the legs is hand-made from 1/4-inch steel round bar that is formed and welded into a spiraling cone and then sand-blasted and powder-coated for durability.
Older clients like the retro look of the legs; younger clients, the industrial vibe. "But many of our customers wouldn't be able to tell you that Spiral Cone Legs are mid-century modern-influenced," Stephenson said. "They just like the geometric styling and functionality."
Design experts agree that mid-century modern furnishings offer something for nearly everyone and make a statement wherever they're placed.
"A younger generation may want the fun, casual and colorful interpretations, and the more affluent may lean toward the graceful and luxurious details of the style," suggested Gina Shaw, vice president of product development for York Wallcoverings.
"The great news is that the price points for wallpaper and other home décor products range from affordable to high-end," Shaw continued, noting that many of York's wallpapers are inspired and redesigned from archival pieces from the mid-century modern time frame. "This makes it work for everyone's budget."
MID-CENTURY MODERN, WHY NOW?
Besides the rebounding economy, one popular theory about why mid-century modern design has resurged is that stressed-out consumers are nostalgic for simpler times. They long for yesteryear and the furnishings that surrounded it—furnishings that could be found not only in American homes at the time but also on popular TV shows like "The Brady Bunch" and "Love American Style."
Mid-century modern design has made its way into present-day TV shows as well, which may be further fueling its resurgence, suggested Laura Holland, director of marketing services for Pearson Co., a licensed Heritage Home Group brand and maker of premium upholstered furniture.
"Mid-century looks have gained in popularity over the last few years, perhaps due to interest in TV shows such as 'Mad Men,' " Holland said. Other popular period TV shows include "Call the Midwife" and "L.A. Confidential."
The popularity of mid-century modern also follows on the trend for industrial design, which is a "natural" partner.
According to Frasca, the sturdy, utilitarian features of industrial design integrate well with sleek, classic furniture lines, "which makes mid-century modern furniture a perfect choice for the home." Frasca reported that her annual trek to the High Point (Furniture) Market this year confirmed the continuing presence of industrial styling, which suggests that mid-century modern will continue along with it.
So, how can you integrate mid-century modern into your own home? Stephenson offered the following suggestions.
(1) Try adding pop! to an accent wall with a bold, geometric wallpaper or archival paint color.
(2) Go to thrift stores or estate sales to find period furniture and reupholster it if necessary.
(3) Look for vintage appliances—such as an aqua toaster or vintage Remington clock—to display as accent pieces.
(4) Update traditional furnishings by swapping out wooden legs or tabletops with metal ones. (Nothing says "mid-century modern" like a mix of materials.)
(5) Most importantly, put what you love in your home without trying to follow any one aesthetic. A passion for design, after all, is what mid-century modern was all about.