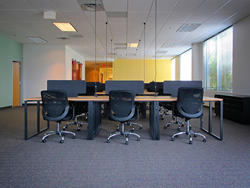 Carrollton, TX (PRWEB) July 31, 2014
The nationally recognized Dallas ad agency specializing in launching new brands has recently launched a business of its own. HeadSpace, conceived by LAUNCH Agency as a collaborative coworking space for creative professionals, will now be accepting applications for membership.
Located adjacent to advertising agency headquarters off President George Bush Turnpike and Midway Road, one mile from the Dallas North Tollway, HeadSpace features an affordable, contemporarily designed, fully furnished coworking and conference option for freelancers and local entrepreneurs. Monthly memberships start at $199 for 24/7 secure access, and include a wide range of free amenities with no contracts required. Also available are MeetingSpace memberships, designed for individuals and companies in need of modern conference room facilities. Perfect for client presentations, focus groups, brainstorming and ideation sessions and group off-sights, MeetingSpace members can book large or medium conference rooms by the half or full day, each with AV equipment and a full range of amenities to assist attendees.
"HeadSpace is unique in the Dallas marketplace, as it was designed by creative marketing professionals for creative marketing professionals," says Launch Principal and HeadSpace cofounder Diane Seimetz Duncan. "We want to be a community of ideas, innovation, networking and new opportunities for everyone—including us."
Other HeadSpace membership features include:

6,000 sq. ft. creative, collaborative workspace with modern furnishings;
Free high-speed Wi-Fi, parking and utilities;
Three state-of-the-art conference rooms with AV;
Just minutes from the Dallas North Tollway & President George Bush Turnpike.
For more information on HeadSpace, visit HeadSpaceDallas.com, or the HeadSpace Facebook page at facebook.com/HeadspaceDallas.
About LAUNCH
LAUNCH is a full-service advertising agency based in the Dallas/Fort Worth area. They are nationally recognized for award-winning creative work, and for competitively positioning and marketing both fast-growth and mature companies. Find them online at launchagency.com.