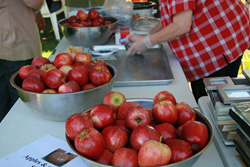 Sweet Festivals Near Balsam Mountain Preserve
Asheville, NC (PRWEB) August 01, 2014
There is nothing better than taking a bite of a juicy apple to say "goodbye" to summer and "hello" to fall. Everyone knows where to find them apples this year, and it all starts in the private mountain communities near Asheville, North Carolina. The Hendersonville NC festivals are in full swing as the seasons change, and the mountain homes and their residents know exactly where to go for the most delicious apples and fantastic activities and events.
From August 29th to September 1, 2014, folks will retreat from the top rated Arnold Palmer Signature golf course and Balsam Mountain Preserve Private Residence Club. But they are not alone. Visitors from miles around will also head to one of the largest apple-producing towns in North Carolina – Hendersonville. This best mountain town has been an icon in the apple industry since the early 1700's, and it has hosted one of the most popular and ongoing Hendersonville NC festivals for 68 consecutive years.
On Labor Day weekend, the official 68th Annual North Carolina Apple Festival will be a four-day event and sweet fun for the whole family. From hearty apple themed breakfasts to downtown street fairs, this Hendersonville NC festival is the place to be on this long holiday weekend. Check out some upcoming highlights of this festival:
August 29, 2014 - Kiwanis Pancake Breakfast starts off the day from 7 a.m. to 10 a.m.
August 29, 2014 - Apple Festival Opening Ceremony starts at 10 a.m.
August 30, 2014 - FBC Memory Makers 2nd Annual Quilt & Craft Show from 9 a.m. to 5 p.m.
August 30, 2014 - Beach Day on Main is an ALL DAY event where residents of the mountain homes can learn to Carolina Shag
August 31, 2014 - Apple Orchard Bicycle ECOTOUR begins at 9:30 a.m. for gathering
September 2, 2014- Annual King Apple Parade kicks off at 2:30 p.m.
The North Carolina Apple Festival has a bushel of activities and events for the local residents to enjoy and members of the Balsam Mountain Preserve Private Residence Club. Although, once the festivities are over and this side of the mountain gears up for an autumn ablaze with color, it is good to know where the 'sweetest' community is for Baby Boomers interested in retiring Western North Carolina.
Out of all of the private mountain communities near Asheville, Balsam Mountain Preserve is often at the top of retiree's list. This gorgeous, low density gated community with an Arnold Palmer golf course rests on 4,400 acres of pristine natural terrain and features some of the most exquisite mountain homes on the market. From mountaintop estates to cozy mountain cabins, Balsam offers home styles for everyone.
Take a peek at Balsam Mountain Preserve homes.
Amenities are extensive at Balsam and include 30 miles of hiking trails make any nature-lover's dream come true at Balsam Mountain Preserve, an award winning Equestrian Center, Ruby Valley Sports Sports Complex, The Boarding House Restaurant and more. It's common to hear folks say, "I never want to leave."
For those who seek an extra touch of luxury and elegance in a mountain setting, the Private Residence Club is a great opportunity to try out the 'Balsam' lifestyle before building or purchasing a mountain home in the neighborhood. Boarding House Cabins in the club are priced under $100k and here's what they include:
Deeded Fractional Ownership
8 Weeks A Year/Unlimited Space Available
Full Membership Privileges In Residence
Elegantly furnished cabins have large studio floor plans averaging over 900 square feet
Cabins are adjacent to the award winning Boarding House Restaurant
If the cabins are not already booked for the Labor Day Weekend, the 68th Annual North Carolina Apple Festival is a sweet time to indulge in the amenities of this private community near Asheville. Take a big bite out of the good life with apples, apples and more apples in Western North Carolina.
Call Balsam Mountain Preserve direct to check on availability at 866.452.3456.
About Real Estate Scorecard:
Real Estate Scorecard writes unbiased real estate reviews providing in-depth information about popular gated communities in Florida, Georgia, North Carolina, South Carolina and Tennessee, all in an effort to help people discover where to retire in the Southeast.
Website: http://realestatescorecard.com