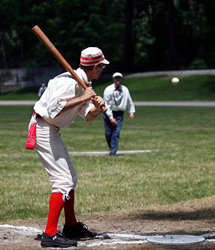 Dearborn, MI (PRWEB) August 01, 2014
Ever attend a baseball game where the players didn't wear gloves, weren't allowed to pitch overhand and spitting was highly discouraged? On August 9-10, The Henry Ford will give guests a chance to do just that during the 12th Annual World Tournament of Historic Base Ball. Playing by the same rules as they did in 1867 when the Detroit Base Ball Club hosted the World's Base Ball Tournament, Village clubs – the Lah-De-Dahs and the Nationals BBC – along with 14 other historic teams from across the Midwest will play the game the way it was meant to be played.
The weekend is a celebration of America's favorite past time complete with performances from the Dodworth Saxhorn band, a chance to see the actual championship trophy awarded to the Unknowns from Jackson, Mich. – winners of the first-class division at the World's Base Ball Tournament in Detroit in 1867 – and an original copy of Haney's Base Ball Book of Reference for 1867 by Henry Chadwick at Luther Burbank Birthplace. Guests can also watch as their favorite players take part in the Players' Skills Competition out on Walnut Grove or test their own 1867 Base Ball skills on the Village Green throughout the weekend.
An awards ceremony will take place following the Championship game on Sunday, August 10th on Walnut Grove at 2:30 pm. A $300 cash prize will be awarded to the champion club, and a bag of peanuts will go to the club with the least number of victories, just as in the 1867 World Tournament.
The World Tournament of Historic Base Ball is free with membership or admission to Greenfield Village. Tickets are $24 adults, $22 seniors (ages 62 and up), $17.50 youth (ages 5-12) and free for children ages four and under. For more information, call (313) 982-6001 or visit thehenryford.org.
About The Henry Ford
The Henry Ford in Dearborn, Michigan is an internationally-recognized cultural destination that brings the past forward by immersing visitors in the stories of ingenuity, resourcefulness and innovation that helped shape America. A national historic landmark with an unparalleled collection of artifacts from 300 years of American history, The Henry Ford is a force for sparking curiosity and inspiring tomorrow's innovators. More than 1.6 million visitors annually experience its five attractions: Henry Ford Museum, Greenfield Village, The Ford Rouge Factory Tour, The Benson Ford Research Center and The Henry Ford IMAX Theatre. A continually expanding array of content available online provides anytime, anywhere access. The Henry Ford is also home to Henry Ford Academy, a public charter high school which educates 485 students a year on the institution's campus. For more information please, visit our website: thehenryford.org.
###