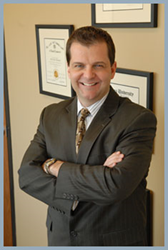 Burr Ridge, IL (PRWEB) August 05, 2014
Denture wearers no longer have to miss out on favorite foods or suffer the pain of dentures that irritate the mouth and gums. Burr Ridge, IL Periodontist, Paul Denemark, DDS, offers a solution for patients who suffer from denture issues by utilizing the All-on-4™ technique. This procedure anchors dentures in place using dental implants so that they look, feel, and function just like real teeth.
Bone loss is one of the most serious side effects of wearing dentures. The roots of teeth stimulate the jaw bone and help to keep it healthy, but when teeth are gone, the bone begins to deteriorate. As the body resorbs the bone matter, the facial structure begins to change and the jawline shrinks. Because dentures sit on top of the gums, they are unable to prevent this bone loss. In fact, as the facial structure changes, dentures often no longer fit, shifting and slipping uncomfortably and causing pain and embarrassment.
Dental implants anchor to the jaw bone and act like the roots of teeth, stimulating the bone on a consistent basis. Even patients who have already experienced bone loss may be candidates for the All-on-4™ method without needing bone grafts, because this Burr Ridge, IL periodontist locates the four points in the arch with the most bone density in order to place the titanium posts. These four posts integrate with the bone and stimulate it while providing anchors for the denture. A temporary or existing denture will be attached the same day the implants are placed so the patient maintains full function and cosmetic appearance. Once the implants fully integrate with the jaw bone, over the course of three to six months, a permanent denture will be secured.
Patients who would like more information about All-on-4™ dental implants or wish to schedule a consultation appointment with a Burr Ridge, IL periodontist are invited to call Dr. Denemark's office.
About the Doctor
Denemark Periodontal Specialists is a periodontal practice providing personalized dental care for patients in Burr Ridge, IL. Dr. Paul Denemark received his Doctorate of Dental Surgery from the University of Illinois, College of Dentistry. He was a general dentist for six years prior to returning to school at Indiana University School of Dentistry to earn his Master of Science in Dentistry degree and research qualified certificate in Periodontics. Because of his expertise in dental anatomy, he was appointed as a Deputy Coroner for DuPage County, Illinois. He previously held the position of Clinical Periodontics instructor at the University of Illinois at Chicago, College of Dentistry. Dr. Denemark belongs to the one percent of dental professionals currently providing the LANAP® protocol, the first FDA-cleared laser procedure for gum disease and periodontal treatment. To learn more about the dental services available at Denemark Periodontal Specialists, please visit http://www.drdenemark.com or call (630) 297-4999.