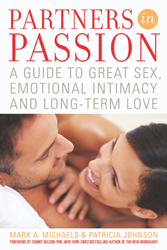 "Gifted teachers and writers, Mark Michaels and Patricia Johnson challenge conventional wisdom and offer bold, fresh strategies for real connection and intimacy in long-term relationships."—Tristan Taormino, author of Opening Up
(PRWEB) August 01, 2014
Intimacy experts Mark A. Michaels and Patricia Johnson, authors of Partners in Passion: A Guide to Great Sex, Emotional Intimacy and Long-Term Love, were featured on The Guardian in an article on teenagers and Fifty Shades of Grey. When a Planned Parenthood counselor gave honest BDSM advice to a woman posing as a teen, the story went viral, with many people critiquing the organization. However, Twanna Hines of The Guardian argues that that "to reduce or eliminate risks associated with uneducated or new BDSM practitioners and provide guidelines for safer sex, in all its forms, competent educators should be talking about enthusiastic consent, boundaries and pleasure to help young people transition from adolescence to a safe and happy adulthood."
Michaels and Johnson agree "about the importance of honest, educated exploration in forming one's authentic sexual identity as an adult."
Cleis Press also has a wealth of resources on BDSM and consent.
A graduate of NYU and Yale, Mark A Michaels is co-author of Partners in Passion (also in audio) writes for scholarly and legal publications and his plays have been produced off-Broadway. He took his first Tantra class in 1997 and gave his first lecture on the subject two years later.
Patricia Johnson spent many years as a professional operatic soprano. In 1999, a longstanding interest in Tantra inspired her to attend a lecture by Mark Michaels, now her husband and collaborator. Since then, she and Michaels have taught and lectured throughout the world. They live in New York City.