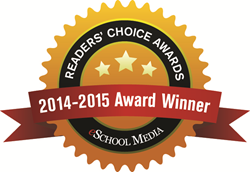 It's an honor to know that eSchool News readers believe as strongly as we do in the value of what the WIN Career Readiness System accomplishes.
Kingston, TN (PRWEB) August 01, 2014
For the third time this year, WIN Learning, the leader in developing innovative career and college readiness software solutions, has been honored by education thought leaders and media, this time receiving the coveted eSchool News 2014-2015 Reader's Choice Award. The annual program honors 50 of the best products and services in educational technology as chosen by the publication's readers.
The WIN Learning Career Readiness System is a series of web-based programs that help students understand and prepare for the realities of the workplace through personalized project-based learning and career exploration. Earlier this year, the WIN Career Readiness System was named a finalist in the Revere Awards presented by the Association of American Publishers, and a finalist in the 'trendsetter' category in the 2014 EdTech Digest Awards program.
"It is an honor to know that eSchool News readers and panelists believe as strongly as we do in the value of what the WIN Career Readiness System accomplishes in preparing students for life after high school," said Dr. Teresa Chasteen, CEO and president of WIN Learning. "We would like to thank the educators who nominated us, as well as the editors of eSchool News, for this significant award."
More than 1,300 educators and administrators from K-12 schools and districts across North America nominated their favorite ed-tech products or services this past spring. To maintain the integrity of the program, eSchool News did not accept nominations from vendors. When submitting nominations, educators were asked to describe how they were using each product to improve teaching, learning, or school administration—and to what effect.
The result "is a list of ed-tech products and services that have proven to be effective," said eSchool Editorial Director Dennis Pierce. "We hope readers will find this information valuable as they consider what technologies they should use in their own schools."
About WIN Learning
WIN Learning is the leading provider of career readiness solutions to help districts prepare pathways for students' futures, whether they are college, trade school, military or workplace bound. More than 10 million students worldwide have participated in the specialized career–driven courseware and education intervention initiatives as well as career-readiness certification programs. For more information, go to http://www.winlearning.com or call 888-717-9461.
About eSchool Media
eSchool Media Inc. is a news and information organization delivering print, online, email, and video communications to more than half a million K-20 decision makers and influencers around the world. Its information networks help educators successfully use technology to transform education and achieve their goals. eSchool News is the flagship publication of eSchool Media Inc., which also includes eCampus News, serving higher education, and eClassroom News, an electronic publication network for teachers.