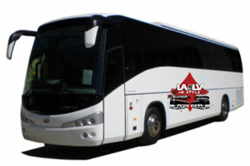 Save 20% off for a Limited Time with Coupon Code "LUXURY" Lets all get to Vegas In Style!
Bevery Hills, CA (PRWEB) August 05, 2014
New Luxury Bus to Vegas Service starting August 25th - Traveling Between Los Angeles and Las Vegas (LA TO VEGAS) has never been easier. Travelers can now remove all the hassles and headaches of getting to Vegas or Los Angeles. Book Now and Save 20% off for a limited time. Bus LA to Las Vegas.
Be sure to Check out LA2LV IN STYLE's Exclusive Vacation Package Deals that include Round Trip Luxury Bus Service, 2 Nights Hotel, Vegas Show and Night-Club Pass.
What makes LA2LV IN STYLE unique and different? Pick-up is conveniently located at the Beverly Hills Hilton Hotel. LA2LV IN STYLE offers many unique amenities and customer service that goes beyond the call of duty. Do not let the low prices fool you. Travelers are embarking on a journey In Style - First Class. Check out a quick video- showcasing the inside of our Bus.
LA2LV IN STYLE gets Travelers to their destination well-rested and ready to enjoy the fun and excitement Vegas has to offer.
#bustovegas, #vegasbus, #buslosangelestovegas, #vegasbusservice, #busshuttletovegas, #busservicetovegas, #luxurybus, #luxurybustovegas, #bus2vegas,#buslatovegas, #latovegasbus
Travelers may Pre-Book Now to save 20% off the already low $77 trip. Seats are going fast.