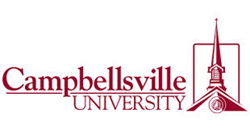 Campbellsville University is a great place to study such a degree, where we have 26 varsity sports spanning from bass fishing to bowling. - Dr. DeWayne Frazier, Associate Vice President for Academic Affairs and Dean of the Graduate School
Campbellsville, KY (PRWEB) August 07, 2014
Campbellsville University will offer a new graduate degree, the Master of Arts in Sports Management (MASM), beginning in the fall.
The MASM program will provide students with advanced training in finance, sports law, event planning, and vital leadership skills. By applying the latest technology, essential business theory, and a foundation of Christian values to the sports management field, Campbellsville has created a rigorous curriculum that will prepare graduates for this competitive industry.
"The Division of Human Performance at Campbellsville University offers a flexible, affordable, accelerated program with professors who are passionate about preparing students for sports management in the 21st century, while communicating values of character and integrity from a Christian worldview," said Dr. Donna Wise, chair of the division of human performance and assistant professor of physical education and athletics.
Admission to the MASM program will require a bachelor's degree with a sufficient grade point average, three letters of recommendation, and a cover letter that includes a 1,000-word Statement of Career Goals. International applicants must also earn an acceptable score on the TOEFL (Test of English as a Foreign Language) Exam. Campbellsville's College of Arts & Sciences is currently accepting applications for the program's inaugural semester.
With a combination of on campus and online courses, the 30-hour MASM program includes 21 hours of compulsory courses and nine hours of a specialized sequence in either administration or marketing, chosen by the student. Requisite coursework includes ethics in sport, facility development and management, research methods, sports administration, and managerial finance. For the administration sequence, MASM students will research event management, organizational leadership, promotions, current sports trends, and sports psychology. With a marketing specialization, courses will be offered in international marketing, current trends, healthcare management, marketing communication, and marketing management. Five courses are currently available in each specialized sequence, and students must complete three of these courses to graduate. Finally, students will be expected to accomplish an internship (also known as a Capstone project) or a thesis to earn their MASM degree.
"Campbellsville University is a great place to study such a degree, where we have 26 varsity sports spanning from bass fishing to bowling," said Dr. DeWayne Frazier, associate vice president for academic affairs and dean of the graduate school. "Students will leave this program ready to compete in the 21st century workforce, where sports are embedded in every corner of the culture."
To learn more about the Master of Arts in Sports Management, visit http://www.campbellsvillegps.com/masm. For more information about graduate courses at Campbellsville University, contact Dr. DeWayne Frazier at dpfrazier(at)campbellsville(dot)edu or at (270) 789-5368.
Campbellsville University is an acclaimed, private Christian university based in Campbellsville, Kentucky. With more than 3,600 students, the institution offers 63 undergraduate programs, 17 master's degrees, five postgraduate areas, and eight pre-professional programs, as well as a renowned online curriculum. Campbellsville has accreditation from the Southern Association of Colleges and Schools Commission on Colleges (SACSCOC). For more information, visit Campbellsville.edu or CampbellsvilleGPS.com.