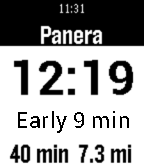 Campbell, CA (PRWEB) August 01, 2014
OT Mobility, Inc., the developers of Spot On Time for Android and iOS, have released a Pebble Watchapp: Spot On Time - Drive Plan. Drivers can use the watchapp to view traffic-adjusted updates to their arrival time and turn-by-turn directions to their destination.
The Pebble smart watch makes it much easier to get the most important information you need at a glance. With the integration of Spot On Time for Pebble and Spot On Time for Android, drivers get another level of convenience for ensuring they are on time while driving.
Specifically, on the Pebble, drivers can see:
A Drive Plan display:

Estimated arrival time, updated for traffic ahead
An indication of early, late or on time
Miles and minutes remaining on the drive.
A Turn-by-Turn directions display:

The next turn maneuver graphic
Walking directions or distance (to/from parking)
Turn instruction (e.g. "Turn right onton…")
Street name (either current or next)
Distance to next maneuver
Vibration when the turn is upcoming.
To use the new Pebble watchapp, a driver would start Spot On Time on their Android smartphone and then view Drive Plan information or Turn-by-Turn maneuver's on their Pebble smart watch.
About OT Mobility, Inc.
Founded in 2012, OT Mobility, Inc. created Spot On Time to ease the complexities of driving to destinations on time. Spot On Time integrates scheduling, alerting, mapping and parking app all in one. For more information about Spot On Time, please visit the company's website at http://www.spotontime.com. Please see a demonstration of Spot On Time here.