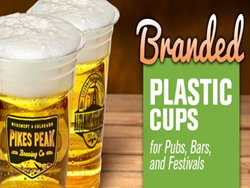 Canton, GA (PRWEB) August 01, 2014
Your Brand Café launched in 2006, and quickly became known for helping independent coffee houses compete with their larger counterparts through fast turnarounds and low minimums on custom printed products. After opening, it did not take long for YBC to be able to expand its customer base beyond cafés and coffee houses to include breweries, restaurants, and pubs as well.
Your Brand Café offers six different sizes of clear plastic PET cups, all of which can be custom printed up to three colors. Customized cups with company logos are perfect for advertising brews or brands. Your Brand Café offers front and back printing, so a brewery, pub or restaurant could advertise its establishment on the front of the cup and have a printed list of the brews offered or advertise an upcoming event on the back. No matter the size of cup, custom printing is perfect for any occasion. Both flat and dome lids are now available to fit 8oz-24oz clear plastic cups.
Ashley McKinney with Your Brand Café states, "For establishments that offer other options beyond the typical brewed drinks, we offer paper hot cups, sleeves, insulated cups, and dessert/food containers that can be custom printed as well."
For more information on Your Brand Café or any of the available products or services, visit http://www.yourbrandcafe.com or call YBC customer service at 866.566.0390.