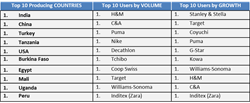 We are looking holistically at the organic cotton supply chain. Organic Cotton farmers are the beginning of a long value chain and surveying the entire system is the best way to get an inclusive story.- LaRhea Pepper, Managing Director
Lubbock, Texas (PRWEB) August 01, 2014
For the first time, Textile Exchange (TE) has combined their Organic Cotton Farm & Fiber Report and the Organic Cotton Market Report to provide one compelling resource for the entire organic cotton supply chain resulting in the 2013 Organic Cotton Report.
LaRhea Pepper, the organization's Managing Director, reports, "We are looking holistically at the organic cotton supply chain. Organic Cotton farmers are the beginning of a long value chain and surveying the entire system is the best way to get an inclusive story."
The report includes the popular TOP 10 Lists of Organic Cotton Producing Countries, Users by Volume and Users by Growth.
Also covered are the drop in production volumes and the contrasting continued market growth. TE's leadership in tackling these issues with their members and textile supply chain partners includes new business models, non-GMO seed programs and working groups such as The Organic Cotton Roundtable and The Organic Cotton Accelerator.
The report encourages everyone to get involved and participate in TE's Call to Action by:

Create Your Own Story
Eco (systems) Thinking
Big Hairy Audacious Goal (BHAG)
TE has invited everyone to join them at this year's Textile Exchange Sustainability Conference in Portland, OR Nov 10-12th and bring the sustainability BHAG!
ABOUT TEXTILE EXCHANGE
Textile Exchange (TE) is a non-profit dedicated to accelerating sustainable practices in the textile industry. TE envisions a textile industry that protects and restores the environment and enhances lives.
To learn more about Textile Exchange, visit the website: http://textileexchange.org/.