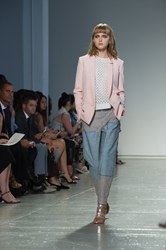 I just wanted [the collection] to feel fresh and beautiful. -Rebecca Taylor
New York City, New York (PRWEB) July 31, 2014
Designer Rebecca Taylor showcased her Spring/Summer 2014 collection at Mercedes-Benz Fashion Week. Fashion show production company Fly Productions Creative produced the runway show, that generated a buzz of excitement within a very intimate setting. When interviewed by Founder and Creative Director of FashionMingle.net Melissa Shea about her initial inspiration for the collection, the designer commented, "I just wanted it to feel fresh and beautiful."
In a recent article, FashionMingle.net contributor, Sofia Villareal identifies the top three fashion trends of the summer that are wearable for casual summer outings and formal parties. Taylor's 'sports chic meets structured lines' trends include a re-imagined blazer, embellished white top, and cool blue shift dress.
Rebecca Taylor's unexpected marmalade pink blazer is perfect for summertime office attire and casual wear, according to Villarreal. "An easy going yet pulled together look, accented by the summertime blazer, can be achieved by wearing a graphic t-shirt underneath, with boyfriend jeans, and either flats or pumps," she said. "For work, wear a pink blazer for a solid colored contrast over a busy printed dress with nude pumps."
Villarreal also recommended sporting a cool summer look with Rebecca Taylor's embellished white tee as seen on the runway. "Gray shorts with a tasteful exposure of skin through sleek cut-outs just above the hem provide a more formal summer ensemble. For a more casual look...wear heels to add a subtle, dressed-up style element"
High summertime temperatures call for clothing that is both trendy yet comfortable to wear. "Using bluish- gray mesh-like material on the sleeves and front panel, Rebecca Taylor coupled form and function," said Villarreal about the innovative shift dress. All three fashion trends were standouts among Rebecca Taylor's collection, which also exhibited a palette of the lightest blues, cream and nudes, mixed in with pops of bright pink and floral patterns.
Rebecca Taylor has been a household name for decades. Duchess of Cambridge Kate Middleton, Actresses Rashida Jones and Kaley Cuoco Sweeting are fans of Taylor's flirty, clean-cut designs that are both feminine and fresh.
About FashionMingle.net
FashionMingle.net is a network for fashion entrepreneurs to share, discover, and mingle. The business directory and social network creates a PR platform for fashion entrepreneurs to promote their services and grow their business. More information can be found at FashionMingle.net.