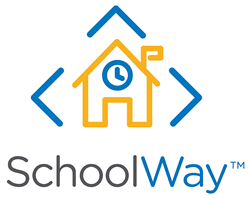 Minneapolis, MN (PRWEB) August 01, 2014
Jostens, the leading producer of publications, jewelry and consumer goods, announced today the company is rebranding its School Connect mobile app to SchoolWay. The new name, logo and website reflect Jostens' portfolio of mobile solutions to bring differentiated value to the school community. SchoolWay is a free mobile app that keeps school communities connected to their district and school's information, delivered directly to smartphones and mobile devices.
"SchoolWay is one of Jostens' strategic mobile platforms and represents our continued commitment to serving the school community," said Murad Velani, chief operating officer, Jostens. "Mobile is quickly becoming the default communication mode for students, parents and school officials. Jostens created SchoolWay to allow schools to quickly communicate with their community, and community members to connect with their schools through a free and feature-rich mobile platform that will continue to evolve based on their needs."
The SchoolWay mobile app is a simple, secure and reliable way to send protected one-way mobile and web messaging to students and homes through SMS/text and email applications. The secure and flexible communication platform allows districts and schools to easily manage, control and deliver content that enhances the school-to-community communications. SchoolWay's capabilities include:
● Push and email messaging from both the district and school site levels
● Push and email messaging from courses, clubs, and athletics
● Instant safety notification and alert reporting
● GPS mapping and navigation
● School calendars
● Online grade book access
● Staff directories with one touch dialing
● Multiple language options, including Spanish
● Lunch menus, athletic information, and much more
The new SchoolWay logo and website rebrand can be viewed at http://www.myschoolway.com.
About SchoolWay
SchoolWay provides communication services to school districts through Apple and Android apps distributed by Jostens at no cost to districts or users. SchoolWay is part of Jostens, a leading provider of products, programs and services that help its customers celebrate moments that matter. SchoolWay is available in seven languages for iPhone, Android, and any browser-enabled device. For more information, visit http://www.myschoolway.com.
About Jostens
Minneapolis-based Jostens provides products, programs and services that help its customers celebrate moments that matter. The company's products include publications, jewelry and consumer goods that serve the K-12 educational, college and professional sports segments. Jostens serves markets in North America, Europe and Asia. Jostens is a subsidiary of Visant Corporation, a marketing and publishing services enterprise servicing the school affinity, direct marketing, fragrance and cosmetics and personal care sampling and packaging, and educational and trade publishing segments.