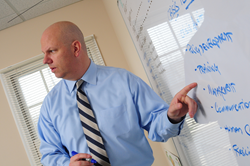 The tips, guidance and hands-on exercises offer an unparalleled training experience that can't be found anywhere else. (Jim Workmeister, President of Premier Concrete, Inc.)
Bel Air, MD (PRWEB) July 31, 2014
Fallston Group principal and crisis management expert, Rob Weinhold will be leading a half-day presentation on crisis leadership and media training on September 25 as part of Junior Achievement's Leadership Seminar Series.
The morning seminar for leaders and executives will emphasize the importance of crisis leadership, from understanding the implications of reputational risk, to strategic planning, communications and response. Weinhold will present leaders with the tactics necessary to minimize reputational damage among stakeholders during an issue of adversity or sensitivity. Attendees will gain hands-on experiential media training, learning how to respond to such issues in the court of public opinion through mock interviews and press conferences.
"Research shows that reputational risk is the number one concern of corporate executives today," said Weinhold, principal of Fallston Group. "Our media training seminars are designed to offer leaders sound guidance and a realistic portrayal of what to expect while under media fire during a critical time."
The Fallston Group, a crisis management and communications advisory firm recently led a riveting training session with Network2000, a nonprofit membership organization founded to promote the advancement of women in professional and executive positions. Fallston Group also hosts the well-known Media Boot Camp for Executives, an interactive day of training that improves the preparation, messaging and presentation skills of leaders who must be at the top of their game while in the court of public opinion. The thrice sold-out event gives participants a behind-the-scenes tour of a broadcast newsroom, a session on brand-building via the media, on-camera interviews with local media personalities, a media roundtable discussion, and post-interview analysis and critiques.
"I strongly advise leaders and executives in any industry to attend a presentation and training session by Fallston Group," said Jim Workmeister, president of Premier Concrete, Inc. and past Media Boot Camp participant. "The tips, guidance and hands-on exercises offer an unparalleled training experience that can't be found anywhere else. Rob's extensive experience in front of and behind the camera bring a well-rounded perspective on media relations."
The presentation will take place on September 25 from 8:00 to 11:00 a.m. at Junior Achievement headquarters in Owings Mills. The session is part of Junior Achievement's Leadership Seminar Series, a quarterly seminar for regional leaders and executives. Past seminar speakers have included Colleen McKenna, principal of Intero Advisory, and Chris McDonnell, president of McDonnell Consulting & Development, Inc. All proceeds from the Leadership Seminar Series support Junior Achievement's financial literacy, work readiness and entrepreneurship programs for local students. Seating for the seminar is limited. To register, call (410) 735-3286 or visit http://www.jmaryland.org/event/leadership_seminar_series.
To book a crisis leadership and/or media training presentation for your business or chief executive team, contact Fallston Group at 410-420-2001 or by email at info(at)fallstongroup(dot)com. Please direct all media inquiries to Josie Hankey at 410-420-2001 or by email at Josie.hankey(at)fallstongroup(dot)com.
About Fallston Group
The Fallston Group, a Bel Air-based company, is a crisis management and communications advisory firm that focuses on building, strengthening and defending reputations. The Fallston Group maintains a very keen, specialized focus in leadership, strategy and communications. The Group provides a blend of executive and operational services to help leaders prepare for, navigate through, and recover from issues of sensitivity, adversity and crisis. Many chief executives refer to Fallston Group as their "Chief Reputation Officer."
About Junior Achievement
Junior Achievement is a 501(c)(3) not-for-profit organization. We believe every child deserves an education in economics and finances in order to inspire and prepare them for success in a global economy. Our goal is to build young people's capacity to spur economic development and contribute to America's global competitiveness. Junior Achievement helps prepare young people for the real world by showing them how to generate and effectively manage wealth, how to create jobs which make their communities more robust, and how to apply entrepreneurial thinking to the workplace.