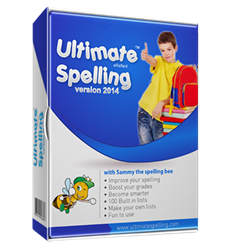 If a person finds new and imaginative activities that help them to learn to spell, they will soon realize how effortless spelling learning is.
New York City, NY (PRWEB) August 01, 2014
The latest Ultimate Spelling™ blog post is a tribute to the animal selfies, eReflect reports. The blog post titled "You Think Only Humans Can Do Selfies? Look at These 10 Animal Selfies" is a humorous post on how the animal kingdom might look as it participates in this latest internet trend.
A tiger taking a selfie in bed, and a giant panda takes his in an elevator; the selfies are taken anywhere and anytime, as the blog post makes evident. Kittens and dogs take part in the animal kingdom selfie culture too, with several puppies and adult dogs seeming to have mastered the art of the "surprise" selfie and the "casual" selfie. Kittens, on the other hand, opt for more dramatic selfies with eyes wide open and surprised looks. A kangaroo and a lemur also proudly share their own selfies for the world to marvel at.
With this funny animal selfies blog post and the entertaining (if often intentionally misspelled) captions, eReflect wishes to remind people that spelling is fun. What's often misunderstood about spelling is that it's difficult and too unpredictable to learn easily. The truth is that spelling is fun if approached creatively.
If a person finds new and imaginative activities that help them to learn to spell, they will soon realize how effortless spelling learning is. For instance, a person could use animal selfies or other popular Internet memes to learn how to spell. Often these memes and quotes have misspellings in them, so it would be fun to try and recognize any such misspellings. In fact, deliberately misspelling words for humorous effect is generally only possible if someone knows the correct way to spell the word.
eReflect recommends approaching hard or demanding learning tasks through play and active learning. Rather than using the widely used "learn and apply" strategy, spelling should be taught interactively through spelling games and fun spelling activities to keep people interested.
***********
For more information about how Ultimate Spelling software can improve spelling performance for you and your family, please visit the official website at http://www.ultimatespelling.com.
About Ultimate Spelling™
Ultimate Spelling provides a modern and easy to use spelling software that has been designed with one goal in mind – making children want to learn.
It is a fast and easy way to master even the most complicated spelling, without the need to write long lists or complete boring tests.
In fact, Ultimate Spelling provides more than just spelling help. It is a complete educational resource that boosts all level of a child's literacy.
Containing a personal computer tutor, Ultimate Spelling is the most realistic step-by-step guide to flawless spelling ability.