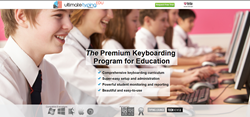 This new typing tutor provides an experience that respects and adjusts to the every student's learning style and speed.
New York City, NY (PRWEB) August 04, 2014
Ultimate Typing™ EDU is the latest software by eReflect, and it is now offered exclusively to schools worldwide through cloud technology. eReflect is shaking up the tech ed arena by offering a unique learning experience for students who want to master touch typing. School supervisors and administrators have already saluted eReflect's initiative to make keyboarding part and parcel of elementary education and acknowledge typing's importance in the modern classroom.
Ultimate Typing™ EDU is a standalone keyboarding class that teachers can easily integrate into their existing curricula. What's more, the program is a complete package; it doesn't require that teachers further enrich the learning experience with extra resources and typing activities, because the program offers everything from basic typing skills video tutorials to fun typing games.
The designers of Ultimate Typing™ EDU wanted to offer a program for schools that would facilitate the role of teachers and that would only require minimum supervision. In fact, a teacher only needs to set up the students' accounts on the cloud program and supervise their practice through its live monitoring and reporting technology.
The program first focuses on teaching students the right typing techniques, the ergonomics of typing, and how to type with accuracy and proper form. Then once these basic keyboarding skills are mastered, students are allowed to move on to lessons that building their typing speed through a multitude of activities and games.
Instead of offering boring activities that don't engage the students' attention, the program is enriched with fun typing games to ensure that students look forward to their touch typing practice. In addition, the video tutorials provide the student with unlimited opportunities to repeat a lesson if they feel they didn't understand a technique presented.
This personalized instruction and the powerful tracking technology of Ultimate Typing™ EDU combine to provide a customized learning experience for each student. This new typing tutor provides an experience that respects and adjusts to the every student's learning style and speed.
*********
For more details on Ultimate Typing™ EDU please visit http://www.ultimatetyping.com/schools.
About Ultimate Typing™
Ultimate Typing™ software is designed specifically for the improvement of typing skills. Created by eReflect, a world leader in e-learning and self-development software, Ultimate Typing™ has been informed by the latest developments in the science of touch typing.
Since its creation in 2006 by Marc Slater, the company has already catered to over 112 countries all over the world, offering products with the latest cutting-edge technology, some of which are among the world's most recognized and awarded in the industry.