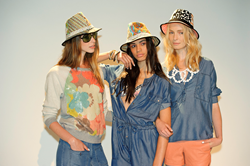 Our theme for this season was 'California road trip.' -Trina Turk
New York City, New York (PRWEB) August 02, 2014
Fashion Designer Trina Turk debuted her Spring 2014 collection at Mercedes-Benz Fashion Week to rave reviews. Her designs were sophisticated yet casual, with a strong focus on West Coast-inspired separates, swimwear, and accessories.
The vibrantly colored springtime collection translates easily into summer styles, and were presented at Mercedes-Benz Fashion Week in a unique showcase. Opting to leave the spectacle of a large runway show by the wayside, Trina Turk held a live photo shoot instead. Models posed on bright white, two-tiered steps and casually interacted with each other. The designer's creative vision was emphasized by the laid back atmosphere of the showcase.
Among the flashing camera bulbs, jovial models, and eager spectators of Mercedes-Benz Fashion Week, a backstage interview with the designer was obtained by the Founder and Creative Director of Fashionmingle.net, Melissa Shea. The designer shared her inspiration for the collection.
"Our theme for this season was 'California road trip,' " Turk revealed, "It's really about a trip up the Pacific Coast highway. It has a very 'beach' feel."
Models wore undone, beach-wave hair and warm, unripened-peach makeup for the lived-in, California-chic look. Exuding an air of effortless style and comfortable beachwear, Trina Turk mixed in several pieces of vibrantly patterned swimwear as well.
Prints in warm brown and pastel colors on wide-leg pants were paired with chambray pieces, and true to the summer shoe trend, there were Birkenstocks galore. Metallic heeled sandals, silver jewelry, and plastic accessories were complements to Turk's looks, as well as patterned hues that ranged from coral, scarlet, and bright green to the more subdued pastels.
During her showcase, Trina Turk also debuted designs from her menswear collection, Mr. Turk, which are available on her website http://www.trinaturk.com.
About FashionMingle.net:
FashionMingle.net is a network for fashion entrepreneurs to share, discover, and mingle. The business directory and social network creates a PR platform for fashion entrepreneurs to promote their services and grow their business. More information can be found at FashionMingle.net.