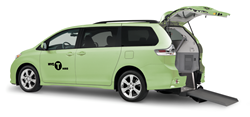 'This is a huge step in the right direction to make everything our great city has to offer available to everyone who visits or lives here, including those who rely on wheelchairs and scooters,' said Daniel Bussani, VP at Bussani Mobility.
Sunnyside, NY (PRWEB) August 05, 2014
Bussani Mobility Team has opened a new location in Queens (41-43 39th Street, Sunnyside) to help NYC and its 5 boroughs comply with the NYC Taxi & Limousine Commission's (TLC) plan to increase the number of wheelchair accessible taxis in the city from about 800 to more than 16,500, and with the percentage of green outer borough cabs outfitted with ramps expected to rise from 20% to 50%.
Bussani Mobility is working directly with taxi base station owners and drivers to secure the specially equipped taxis, obtain financing and grants, and service the vehicles.
The retrofitted wheelchair-ready cabs, including the Toyota Sienna and Dodge Grand Caravan, are equipped with the industry's quietest and simplest ramp system manufactured by leading conversion company BraunAbility. The rear-entry cabs make any left or right street hails easy to accomplish. Fleet orders of all sizes can be arranged through local automotive mobility dealer Bussani Mobility.
"This is a huge step in the right direction to make our great city and everything that it has to offer available to everyone who visits or lives here, and that now includes more people who rely on wheelchairs and scooters to move about," said Daniel Bussani, Vice President at Bussani Mobility Team. "After 40 years in the mobility business, the wheelchair accessible taxi plan is an initiative that we're 100 percent in support of. As we're helping operators understand the potential of this profit center for their businesses, we also hope to increase acceptance of disability issues as we get more wheelchair accessible taxis out on the road."
For more information, contact an Accessible Taxi Specialist at 888-871-3124 or visit http://bussanicommercial.com. Competitive pricing is available.
Bussani Mobility Team (http://www.bussanimobility.com and http://www.bussanicommercial.com) is a leading provider of automotive mobility products and services for people with disabilities. The company helps people with disabilities regain the freedom and independence to go where they want to go and do what they want to do. Established in 1974 with headquarters in Bethpage, NY (Nassau County) and with offices in Smithtown (Suffolk County), Mamaroneck (Westchester County) and Sunnyside (Queens), Bussani Mobility Team is a market leader in the Tri-State (NY, NJ, CT) area. The company's team of experts offers: a complete line of wheelchair vans and mobility equipment from top manufacturers available for purchase or rental, wheelchair accessible taxis, a full-service automotive shop, 24-hour emergency service, special financing options, insurance services, educational opportunities, and in-store consultants who are dedicated to meeting their customers' every need with a highly personal touch.