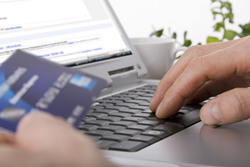 Harrison, ME (PRWEB) August 01, 2014
At a time when U.S. cell phones outnumber her citizens and laptops are as ubiquitous as taxis on a Manhattan freeway, shopping online has become a way of life for many Americans. With e-commerce retail sales projected to exceed $300 billion by the end of 2014, even many startup businesses are hastening to set up shop in one of the busiest retail outlets on earth – the internet.
E-commerce, however, requires the cooperation of at least four parties: the merchant service provider, the acquiring bank (through whom the provider processes the transactions), the issuing bank (from whom the customer received his credit card), and the customer. Of these, businesses most often focus on the customer; however, some companies are finding that the challenge is occurring much earlier in the process – with the merchant service provider.
According to a list established by the FDIC, there are at least 30 business categories that have been associated with high-risk activity, including everything from money laundering to an above-average number of chargebacks. The end result is that some potential acquiring banks simply refuse to do business with any companies operating within one of those categories. And those that do so often charge those businesses very high transaction fees for the privilege.
Operation Choke Point, which was announced in 2013, has compounded the situation in certain cases, by raising the stakes for banks through active investigations into the companies they do businesses with. Consequently, some banks that previous cooperated with high-risk verticals have become reticent to do so.
For all these reasons, businesses in high-risk verticals (including everything from adult entertainment to natural weight loss supplements) are finding it difficult to join the 21st century's booming online marketplace. However, if your venture falls into one of these categories, all is not lost. Here are 5 tips that can help you establish yourself reliably and affordably in this rapidly growing space.
1. Find a merchant provider who specializes in high-risk businesses
Companies who specialize in serving this unique segment of the online market are more likely to be in-tune with your niche and to be able to assess your business on its own merits. They also often have relationships with banks who are willing to process the charges without the exorbitant fees of some other acquirers.
2. Maintain a good business and personal credit score
The true risk your business presents is partially reflected by your credit score. By keeping your credit-to-debt ratio low and paying your bills on time, you can maximize your chances of obtaining a merchant account at the best possible rates.
3. Minimize chargebacks
One of the biggest reasons some verticals are considered high-risk is because they are subject to an above-average number of chargebacks, which are harmful to the merchant provider and to the acquiring bank. To minimize the risk your business presents and maximize your opportunities for obtaining the best rates, aim to keep your chargebacks low (less than 1-2%) by providing complete and accurate information about the product, identifying your business clearly in the credit card descriptor, and having a clear and fair return policy.
4. Engage in appropriate and realistic marketing
Advertising that promises extravagant results that most people will not realize is another common reason for chargebacks that can make your business less desirable to merchant service providers. Not only is honest marketing good for your customers, it's also good for you and your ability to obtain credit card processing.
5. Offer good customer service
Businesses that are polite, helpful, and customer-focused often get positive reviews and higher ratings on sites that compare such businesses and on personal websites and blogs around the internet. Banks are encouraged to check such sources when assessing risk, so again, by taking care of your customer, you also take care of your business.
Although internet sales can be more challenging for businesses in high-risk markets, entrepreneurs that work in these verticals don't have to be left out of the e-commerce boom. By finding an e-processing partner that specializes in such markets and adhering to some common-sense business practices, the millions of people who shop online can begin finding the goods you offer as well.