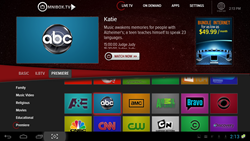 The Next Generation OmniBox is the only alternative to traditional cable, Roku, Apple TV, and Google TV
Tampa, FL (PRWEB) August 01, 2014
On July 1, 2014, Omniverse One World Television, Inc. and its product known as OmniBox TV will be available in the top 55 retailers in the United States. "We look forward to distributing the OmniBox to the DSI FMS clients. The OmniBox is an extremely interesting product that will do well," said Robert Virden, Senior V.P. of Sales.
DSI Systems will make the The Next Generation OmniBox available to ABT Electronics, Amazon DC, Amazon.com, B2S Direct, Beach Audio, Bed Bath & Beyond, Best Buy Purchasing BtoB, Best Buy Purchasing Magnolia, Camping World, Cascico Music Company, CE Showroom, Cobalt Communications dba iElectronics.com, Connections Dynamics, Costco, Crutchfield, Dwell Media, Eagle Recognition/Carras, Executive Merchandising Services, Federal Stereo, Home Technologies, Huppin's HI-FI Photo & Video, Lumens, Magnell Associates (Newegg), Maritz Motivation, Mason Companies, Nebraska Furniture Mart, Nordstrom, Overstock.com/LTL, Overstock.com, P. C. Richard & Sons, Paulstv.com, PC Club, PCM Logistics, Premium Incentive Sales, Public Identity, Purchasing Power, Quality Incentives, Quibids, QVC, LTL, QVC Inc., Sam's Club, Sears, Shop NBC, Sky Mall, Stands & Mounts, Target, The Bonton Stores, Tiger Direct, Topco Associates, Unbeatablesale.com, Vann's, Wal-Mart Stores, Woot Service, and Your Electronic Warehouse.
"We're excited here at OmniBox TV with the DSI Systems opportunity. We feel that we found the right partner to take the Next Generation OmniBox to the market in a big way," said Jason DeMeo, President and CEO of OmniBox TV.
Upcoming updates to the Next Generation OmniBox will be available on August 22, 2014 that will include an Android Based Platform, Google Play Store, Multiple Web Browsers, Premium Channel Lineup, Flash Media Players, HTML5, Electronic Program Guide, Channel Search, Mobile Remote App, and Bookmark your favorite channels just to name a few...
In addition, OmniBox TV Headquarters, Distribution Center, and the new State of The Art Master Control has been relocated to Manasquan, New Jersey. "Adding the new Master Control will create a tremendous improvement to channel playback and the user experience," said DeMeo.
About OmniBox TV:
The NG OmniBox TV is an IPTV Set Top Box that turns every TV into a Smart TV. It syncs with your home internet or mobile hot spot giving you access to Live, On Demand, and Web content with 1080P HD streaming ability. Our users can now view their favorite live channels, shows, and movies while having access to their favorite social media sites, email, and web browsing, all this right from your television. The Next Generation OmniBox now comes with many new features including the Google Play Store, Flash Media Players, Multiple Web Browsers and over 1,000 Live and On Demand Channels Included with one low monthly payment.
About DSI Systems:
DSI Systems is the nation's largest distributor of satellite, consumer electronic equipment, furniture and appliances. We are dedicated to serving dealers with quality customer service and convenience. This is accomplished through individualized service, strong product offerings, a fast and efficient overnight delivery system and instant access to information via the DSI web site.
The business began in 1984 with one location in Des Moines, Iowa. Thirty years later, there are locations covering the country from coast to coast. This nationwide distribution network allows DSI Systems to deliver dealer orders in a swift and efficient manner.