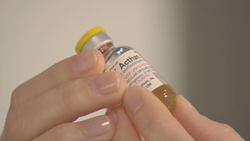 Cleveland Ohio (PRWEB) August 05, 2014
Spangenberg Shibley & Liber is interested in speaking with anyone who has taken Acthar, a potentially dangerous prescription drug, and suffered adverse side effects.
A recent regulatory filing by Questcor, the manufacturer of Acthar, exposed a significant number of severe side effects associated with the costly and widely promoted immune-system drug including death, abdominal issues, renal failure, and increases in blood sugar (nytimes.com/2014/07/11/business/questcor-reveals-adverse-events-data-for-acthar-for-first-time.html?_r=0).
According to a New York Times report, Acthar, a drug indicated for the treatment of infantile spasms, exacerbations of multiple sclerosis, certain rheumatic disorders and certain manifestations of nephrotic syndrome has been linked to serious and potentially fatal injuries in nearly 14% of those prescribed the medication (fiercepharma.com/story/questcor-comes-clean-adverse-effects-beleaguered-drug-acthar/2014-07-11).
The New York Times report revealed that from January 1st, 2011 to December 31st, 2013 1,022 patients reported 3,100 adverse side effects while taking Acthar. The report also showed that 20 deaths and 6 severe disabilities were attributed to the drug from 2012 to the present while only 13 deaths were attributed to Acthar from January 2000 through 2011.
Acthar is manufactured by Questcor Pharmaceuticals and as reported in FiercePharma, generates approximately 95% of the company's revenues. A typical 5 ml prescription of Acthar currently costs $28,000 (nytimes.com/2012/12/30/business/questcor-finds-profit-for-acthar-drug-at-28000-a-vial.html?pagewanted=all), up from $1,650 in 2007 and $40 in 2001. According to the New York Times report, a large portion of the adverse events associated with Acthar are occurring in patients using Acthar for nephrotic syndrome and other rheumatology related conditions.
Questcor has allegedly marketed Acthar for treatment of nephrotic syndrome and other rheumatology related conditions, conditions for which Questcor has not conducted large-scale safety studies to determine the safety and efficacy of the drug (http://www.nytimes.com/2012/12/30/business/questcor-finds-profit-for-acthar-drug-at-28000-a-vial.html?pagewanted=all&_r=0).
Acthar was initially approved by the FDA in 1952 and the label was expanded to include treatment of exacerbations of multiple sclerosis in 1978. In 2006, Questcor filed a "New Drug Application" (NDA) with the FDA, asking for a specific efficacy designation in order to prescribe the drug to pediatric patients suffering from infantile spasms. The FDA approved this request on October 15, 2010 (http://www.accessdata.fda.gov/drugsatfda_docs/nda/2010/022432_hp_acthar_gel_toc.cfm).
The law firm of Spangenberg Shibley & Liber LLP (SSL) has extensive experience in the field of pharmaceutical and medical device litigation. For additional information about Acthar, or if you believe you may have suffered injury as a result of Acthar, contact Spangenberg Shibley and Liber toll-free at (877) 696-3303 or visit the firm's website at http://www.spanglaw.com Initial consultations are always free and confidential.