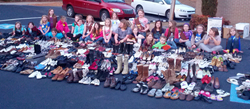 Lizella, GA (PRWEB) August 01, 2014
Got old shoes that you don't know what to do with? Girl Scouts of Historic Georgia and ShoeBox Recycling are working together to make the world a smaller, friendlier, and greener place one pair of shoes at a time through the Scouting for Shoes program. Girl Scouts throughout Georgia have been busy trying to keep shoes out of landfills. Since starting this program in January, Girl Scouts of Historic Georgia has collected more than 3,214 pounds of shoes. Every pair of shoes recycled will live happily on someone else's feet.
The program is simple. Collect gently used, re-wearable shoes, bring them to one of Girl Scouts of Historic Georgia's eight service centers and drop them in the ShoeBox.
It's estimated that 20 billion pairs of shoes are produced annually, and unfortunately, roughly 300 million pairs are thrown away each year that can last for as long as 1,000 years in a landfill. When considering the sheer volume of shoe waste, it's environmentally irresponsible to toss shoes in a landfill where they'll impact the planet for centuries.
Recycling shoes helps do the following:

Provide affordable shoes to those in need
Creates micro-enterprises for individuals throughout the world, thus fueling local economies here and abroad
Keeps them out of the landfills, creating a cleaner, greener planet
Humanizes the process of shoe recycling with real connections of differing cultures
Now is the time to clean out those closets and donate them to Girl Scouts of Historic Georgia's Scouting for Shoes program instead of throwing them away to sit in a landfill.
Acceptable Shoes: All paired men's, women's and kids' shoes that are still usable. That means no holes in the soles and no wet or mildewed pairs. This includes athletic shoes, dress shoes, timberland type work boots, sandals, heels, flats
Not Acceptable Shoes: Heavy Winter Boots, Skates, Blades, Flip-Flops, Slippers, Singles, Unusable
To find the Girl Scouts of Historic Georgia service center closest to you or to find out more about the Scouting for Shoes program, log onto http://www.gshg.org.
Girl Scouting builds girls of courage, confidence and character, who make the world a better place. Girl Scouts of Historic Georgia is the premier leadership development organization for girls and serves more than 14,000 girls and 6,000 adults in 122 counties in Georgia, two counties in South Carolina and Russell County in Alabama.