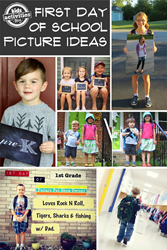 Capture the excitement on the first day of school.
Dallas, Texas (PRWEB) August 01, 2014
First day of school pictures are special. Creative school picture ideas and amazing classroom hacks have been released on Kids Activities Blog. Get ready to capture all the excitement on the first day of school.
The 15 ideas for adorable first day school pictures include making chalk boards with special messages for the kids, dressing the kids the same for each years picture, and lining the siblings up by height.
Other great photo moments include taking a picture in the school hallway, making a school bus photo frame, and using any of the printables published on Kids Activities Blog. The photo tip list is endless.
School is just around the corner and it is time to plan the classroom. Use plastic milk cartons to build a cubby wall. Make bucket seats that provide extra storage or add black contact paper to jars to create pen holders.
Glue pom poms on erasers. They make the classroom more colorful and the pompoms are easily spotted when the eraser falls on the ground. Cut up a shower board from the hard ware store to make mini white boards for kids. Make a collection of floor mats for the kids to have a place during story time.
For detailed instructions and to get additional fun ideas, check out Kids Activities Blog this week. Come get inspired to make back to school fun this month.
About Kids Activities Blog
Kids Activities Blog is a website created by two moms (who collectively have 9 children), Holly Homer and Rachel Miller. Their new book was published this spring by Page Street, 101 Kids Activities That Are the Bestest, Funnest Ever! Kids Activities Blog is an interactive website that publishes fun things to do with kids twice a day. It is an amazing resource for moms, dads, grandparents, caregivers and teachers to find kid-friendly activities that create memories and sneak learning into the fun.