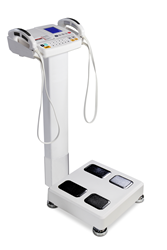 Rice Lake, Wisconsin (PRWEB) August 05, 2014
Rice Lake Weighing Systems introduces the highly accurate and incredibly durable Competitor Series body composition analyzer (BCA). Health and fitness professionals who want better results for their clients and a faster return on their investment will appreciate the powerful yet affordable multi-frequency segmental analyzer. The Competitor Series BCA is ideal for weight loss centers, fitness clubs, and medical offices.
The Competitor Series BCA is configured in three different models: D-1000-3 Full Body, D-1000-2 Upper, and D-1000-1 Lower. All models come with a built-in thermal printer with auto-cut that immediately produces identifying information, a breakdown of the analysis, and a breakdown of the segmental analysis. Get more in-depth results by adding on Rice Lake's exclusive Body Pass™ software and maximize health data management.
Health and fitness professionals can choose Goal Setter mode to effectively maximize their BCA. Goal Setter mode offers users an effective way to establish and track fitness goals. This mode allows the user to select a target body fat percentage and based on their unique attributes, the Competitor Series BCA calculates how much weight should be lost to achieve that goal. Goal Setter mode can also calculate the user's predicted weight and fat mass when the goal is reached. There is also a second mode, Wrestler mode, in which high school and college body fat regulations are incorporated into the analysis results.
More information regarding the Competitor Series body composition analyzer can be found by visiting http://www.ricelakehealth.com/BCA.
Rice Lake Weighing Systems is an international leader in the manufacture and distribution of weight-related products and process-control equipment. Within this ISO 9001 registered company, progressive new technologies merge with the wisdom of industry experience and create the future of weighing through cutting-edge research and design.