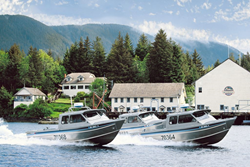 Ketchikan, Alaska (PRWEB) August 01, 2014
In celebration of National Fishing Month (now through August 31), Waterfall Resort, the most popular fishing lodge in Alaska, offers top 10 fishing tips from the resort's seasoned guides. Near Ketchikan in Southeast Alaska, just a 90-minute flight from Seattle, Waterfall Resort is experiencing the best fishing in years due to improved king salmon fishing limits as set by the Alaska Department of Fish and Game. As such, anglers have the opportunity to take home double their peak season catch over last year by utilizing these practices during daily fishing excursions.
Waterfall Resort's Top 10 Fishing Tips include:
1. Safety first. Guides should be U.S. Coast Guard certified and start every trip with boating safety instructions. Guides should be ready to help younger or newer anglers with the sharper points of fishing, such as cutting bait or baiting a hook.
2. Know your seasons. Some species of fish peak at a specific time of year, which is important to consider when scheduling a fishing trip. King salmon (Chinook) typically start their run in May, peak in June, then taper down in July and August. Silver salmon (Coho) ramp up in July and peak in August.
3. Go saltwater for salmon. Wild salmon spend years in the deep ocean before returning home to spawn. Because they expend so much energy swimming up freshwater streams to their spawning pools, they feed and bulk up in coastal waters beforehand. This makes saltwater-caught salmon the biggest and most flavorful.
4. Be a moocher. Mooching is a specific fishing technique that works well for a variety of sport fish species. Waterfall Resort recommends using a cut-plug herring as bait, dropping the hook to the bottom, then fishing the entire water column by giving the reel twenty cranks at moderate speed. This makes the bait spin and "flash" in the water, attracting the attention of all nearby sport fish.
5. Use great gear. The right gear can make or break an outing on the water. For the best results, Waterfall Resort equips all boats with state of the art navigation and fish finding technology, and professional grade rods and reels. All-weather gear is also important, because when the clouds come out the fish do, too.
6. Fish with friends. Remember that a great fishing spot one day can be quiet the next. When fishing with friends on multiple boats (Waterfall Resort runs the largest private fleet in Alaska), keep an eye on the water and let each other know where the fish are biting that day. Friendly competition always adds fun to the day.
7. Wait for the bite. Fishing is all about patience. Some fish, especially halibut, will bump the bait to test it out first. Avoid yanking the rod right away; otherwise the fish will swim away without getting hooked. Wait for the fish to take the bait and start swimming away with it.
8. Let them run. Once a fish is on the line, begin to crank the reel. As soon as they realize they're hooked, they'll try to make a break for it. Let them take a little line, then crank again when they move toward the boat. Let the fish tire himself out in order to win in the end.
9. Location, location, location. Fish go where the food is, and certain locations are legendary for sport fishing. Look for warm, nutrient-rich upwelling currents, coastal waters with craggy sea floors that provide shelter, and habitats of baitfish like herring and candlefish. These are the factors that make southeast Alaska one of the world's most famous sport fishing destinations.
10. Have fun! Don't forget to share fish tales with friends. Tell them about the one that got away… then show them the picture of the trophy-sized king salmon that didn't get away! Whether its over a beer back at the lodge, inviting them over for a grilled salmon dinner, or sharing photos on social media, the most important thing is to have a good time!
Established in 1912, the original cannery that became Waterfall Resort broke records for the sheer volume of seafood it caught and exported all over the world. In 1983, The Waterfall Group transformed the 52-acre property into one of the finest remote sport fishing destinations in the world. Its location on Prince of Wales Island adjacent Alaska's Inside Passage combined with its all-inclusive four-star guest service, seasoned team of guides and staff, hearty Alaskan recipes and home-cooked cuisine by Chef Isaiah Phillips make for an unforgettable experience year after year.
To book a stay call 800-544-5125 or visit http://www.WaterfallResort.com.
About The Waterfall Group
Waterfall Resort is managed by The Waterfall Group, leaders in adventure hospitality management. Founded in 1982, The Waterfall Group destinations are known for their unique accommodations, friendly customer service, expert marine crew and close proximity to the best sport fishing in Alaska. Welcoming more than 50,000 guests at its resorts, The Waterfall Group boasts an impressive guest return rate that includes multiple generations. The Waterfall Group also manages Waterfall Resort's exclusive luxury sister property Steamboat Bay Fishing Club, the closest lodge to the best fishing in Southeast Alaska.