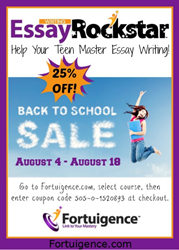 By using the Essay Rock Star writing course, my son was able to dramatically improve his writing skills.~Sarah Robinson, HomeschoolSurvival.com
Navesink, NJ (PRWEB) August 04, 2014
Each new Essay Rock Star short course by Fortuigence trains middle and high school students in a different essay form — a personal statement, a persuasive essay, an expository essay, and a textual analysis essay. This is done via a five step writing process that breaks down essay composition into smaller manageable pieces to build skills and confidence easily.
About Fortuigence
Fortuigence is an online school that offers self-paced courses with professionally trained teachers available to review student work and give individualized feedback within 24 business hours after submission. This allows their clients, primarily students in homeschooling families, to experience the benefit of moving through their courses on their own schedule while still working directly with an experienced teacher. Fortuigence's current paid online courses serve middle and high school students.
The primary mission of Fortuigence is to arm teens with the skills they need for success beyond high school. Therefore, their first academic offering is the Essay Rock Star Non-Fiction Writing Program for Teens, as their research identified writing skills a major area of need for adolescents in the U.S. For more information on the various courses in the program, visit http://www.fortuigence.com/Fortuigence/Courses/index.cfm.
The New Essay Rock Star Short Courses
The Personal Statement Short Course, available at
http://www.fortuigence.com/personal, takes students through the process of crafting a personal statement essay of the type needed for college applications. Here, students become comfortable writing about themselves while they develop formal writing skills.
The Persuasive Essay Short Course is available at http://www.fortuigence.com/persuasive.
The writing sections of most college entrance exams like the SAT (Scholastic Aptitude Test) require persuasive essay writing. This course trains students in the specific strategy needed to score well on a persuasive essay on a standardized test or for any persuasive writing assignment.
The Expository Essay Short Course, available at http://www.fortuigence.com/expository, teaches students several approaches on how to give clear and thorough written explanations about their topic of choice.
Finally, in the Textual Analysis Short Course, available at http://www.fortuigence.com/textual, students learn to write a critical review of an author's work. Book reviews, movie reviews, and product reviews are all examples of textual analyses.
The current retail price of each short course is $57, while Fortuigence's long course program teaches all four modules in one course for $197.
Free Printables, Courses and Teaching Tips
Fortuigence has a free online course for parents called "Top Teach: 7 Steps to Gain the Confidence, the Know How and an Easy to Follow Framework to Ensure Your Child Learns to Write Well at Home." This course is designed to help parents set a foundation for strong writing skills for their children. This course is for parents of children of all ages and is available at http://www.fortuigence.com/freecourse.
Additionally, Fortuigence is now offering a free ebook to help children get started on any type of writing assignment with ease titled, "End Blank Page Terror Forever: 24 Pre-Writing Tools and Guidebook to Organize Content, Take Notes with Ease and Make Your Kids Confident Writers." This is available for download at http://www.fortuigence.com/blankpageterror.
Finally, Fortuigence also has a Youtube channel with numerous video tips to assist homeschooling and non-homeschooling parents alike with teaching and teaching writing at http://www.youtube.com/fortuigence.
To schedule an interview or request more information about any of the Fortuigence online programs please contact Lily Iatridis.