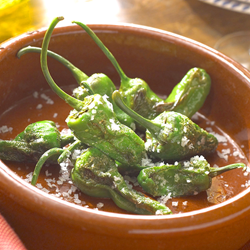 Spanish roulette!
Toano, VA (PRWEB) August 04, 2014
Anyone who follows food knows that there's a dedicated group out there who are always looking to have their minds and taste buds blown by the next pepper at the top of the Scoville scale. Then there's the Padrón - the pepper loved by those who thrive on the thrill of uncertainty.
Pimientos de Padrón are tiny, fresh peppers originally from Padrón, a medieval seaside town in Galicia in northwest Spain. Sizzled in olive oil and sprinkled with sea salt, they have a vibrant color and delicious flavor. Padrón fans flock to tapas bars in the neighboring pilgrimage city of Santiago de Compostela in late summer to savor a plateful of these seasonal peppers, and their fame has spread throughout the rest of Spain and most recently to the U.S.
What makes Padróns unique and fuels their following is that while most are mild, there are "wild card" Padróns that crop up at random to deliver an unexpected punch of heat, prompting a New York Times writer to dub the experience "Spanish roulette!". And in Galicia, they have a common saying, "los pimientos de Padrón, unos pican y otros no," crudely translated as "some are hot, and some are not."
Pimientos de Padrón peppers grown from Spanish seeds and harvested by a family farmer in the United States are available exclusively through latienda.com through the end of August. Every couple of days during the growing season, the small, crisp peppers are hand picked. Following the tradition of the farmers of the village of Padrón, the farmer then selects only the small, young peppers so that most are mild. The following morning La Tienda receives these fresh peppers and ships them out to customers, hundreds of whom place their orders each year before the peppers are even available.
Pimientos de Padrón, 1 Pound (about 50 peppers) $17.95, latienda.com