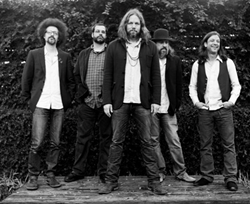 Fairfield, CT (PRWEB) August 01, 2014
The Fairfield Theatre Company gets hit with a heat wave of musical talent at StageOne, as they welcome five must-see shows for any guitar fan this August.
Starting off this heat wave is one of the most highly ranked contemporary artists in American music, Jerry Douglas at 7:30 p.m. on Thursday, Aug. 7. Garnering 13 Grammy Awards and the distinction of being named "Musician of the Year" by The Country Music Association, The Academy of Country Music and The Americana Music Association, Douglas' accomplishments go beyond what any awards can state.
Widely renowned as perhaps the finest Dobro player in contemporary acoustic music, Douglas may have found his foundation in bluegrass, but Douglas is an eclectic whose tastes also run towards jazz, blues, folk and straight-ahead country. His sound is equally capable of appealing to bluegrass aficionados and new agers.
Douglas makes his return to StageOne in support of his latest release, "Traveler," an album which Douglas believes, "is the culmination of a long career spent making friends and lending my sound to theirs. This time, my friends have come onboard to lend their voices to me."
FTC cranks up the heat another two notches when they welcome two of music's most iconic guitarists to StageOne, Paul Barrere & Fred Tackett at 7:30 p.m. on Saturday, Aug. 16.
The legendary guitarists of Little Feat have combined forces once again and formed an acoustic duo that will quite frankly blow any fan away. Performing songs from their Little Feat catalogue, new material and fresh takes on classics, Paul & Fred will show the intimate FTC audience why they're two of the best musicians in the business.
But FTC isn't done just yet with turning up the heat, as they bring the English guitar legend, Albert Lee to StageOne at 7:30 p.m. on Sunday, Aug. 17.
Over the course of several decades, Lee became one of the bigger names in the music business and performed with the likes of Poet And The One Man Band, The Crickets, Heads Hands & Feet, Emmylou Harris and The Hot Band, The Everly Brothers and a series of collaborations with long-time friend Eric Clapton, touring for a couple of years with the band throughout the U.K and the U.S, as well as travelling east for a special celebratory concert at the Budokan in Japan.
Lee now comes to the intimate StageOne venue in support of his latest project: his "70th Birthday Celebration," a solo album, documentary and concert celebrating his illustrious career in music.
If Albert Lee isn't enough heat, FTC welcomes New Orleans blues guitar player Tab Benoit back to StageOne at 7:30 p.m. on Tuesday, Aug. 19.
A fan favorite to FTC, Benoit is Louisiana's No. 1 roots export. More than just an acclaimed bluesman, Benoit is an indefatigable conservation advocate. Benoit is a driving force behind Voice of the Wetlands, an organization working to save Louisiana's wetlands.
Benoit brings another stellar night of blazing guitar and southern swamp blues to the intimate venue, that is a must see for those who have never seen him before. Get tickets early, because those who know about him know he will sell out fast.
Finally, closing out this heat wave of guitar greatness at Fairfield Theatre Company is the one and only Rich Robinson of the Black Crowes at 7:30 p.m. on Saturday, Aug. 23.
Best known as the guitarist, songwriter and founder of The Black Crowes, Robinson began writing the music at the age of seventeen that would land on the band's 1990 debut album, "Shake Your Money Maker," a landmark album which sold 7 million copies. Over the next 10 years, Robinson's songwriting evolved into the musical engine that powered the band to sales of more than 25 million albums.
In 2004, Robinson began his solo journey with the release of his first album, "Paper." The record was largely an extension of Robinson's musicianship as a Black Crowe, showcasing his stellar and under-rated guitar playing and, for the first time, Robinson took on the role of lyricist and lead vocalist.
A worldwide Black Crowes tour kept Robinson busy in 2013, but he found the time to return to Woodstock to record "The Ceaseless Sight." The album finds Robinson stepping solidly into his own as a solo artist as he adds confident vocalist and lyricist to his accomplished musical resume.
Join the Fairfield Theatre Company this summer for a bevy of the best guitarists touring today as FTC welcomes Jerry Douglas, Paul & Fred, Albert Lee, Tab Benoit and Rich Robinson to the best music venue in Fairfield County, StageOne.
Jerry Douglas
Date: Thursday, Aug. 7
Time: 7:30 p.m.
Tickets: $65 Adv. Members Save $10
Paul Barrere & Fred Tackett of Little Feat
Date; Saturday, Aug. 16
Time: 7:30 p.m.
Tickets: $42 Adv. Members Save $5
Albert Lee
Date: Sunday, Aug. 17
Time: 7:30 p.m.
Tickets: $35 Adv. Members Save $5
Tab Benoit
Date: Tuesday, Aug. 19
Time: 7:30 p.m.
Tickets: $47 Adv. Members Save $5
Rich Robinson
Date: Saturday, Aug. 23
Time: 7:30 p.m.
Tickets: $35 Adv. Members Save $3
Buy online: http://www.fairfieldtheatre.org
<br>About the company:<br>Fairfield Theatre Company is a highly-acclaimed non-profit performing arts organization located in the heart of downtown Fairfield, Connecticut. FTC presents nearly 250 performances and concerts each year featuring outstanding national talent on FTC's StageOne in Fairfield, The Klein Auditorium in Bridgeport, and the Norwalk Concert Hall in Norwalk. FTC's intimate 200-seat StageOne concert venue is widely recognized as being one of the best places to see a live performance in the region. FTC is dedicated to providing the highest-quality arts, live entertainment and educational experiences to the communities it serves.