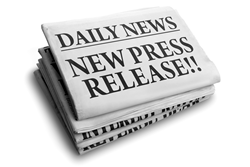 Press releases are an affordable, easy way for small business owners to increase their business and their search engine rankings.
(PRWEB) August 01, 2014
GetUWired, a full-service Internet marketing firm headquartered in scenic Dahlonega, Ga., has just released an informative blog titled, "The Importance of Press Releases for Small Businesses." This article details the ways press releases can help small businesses gain new leads and increase their search engine rankings.
Press releases are an easy and affordable way to spread small business' message in print and online. But oftentimes, press releases are overlooked in favor of more expensive forms of advertising. But it's time to give press releases their due, because they're still cheap, and they still work!
What is a press release?
A press release is typically a one-page (or less) document that is sent to media outlets for publication. In the local newspaper, press releases often appear as tiny little stories sprinkled around the paper like filler (that's exactly what newspapers use them for). Those tiny stories started as press releases and then were edited into their current format.
Press releases can also be seen online. There are several different online press release platforms. When a user searches for terms on Google, press releases will often come up in the search results.
Why small businesses need to start putting out press releases today.
1. Press releases increase search engine rankings.
The more times a website is associated with certain keywords on the web, the higher that site will rank in the search engines. But only use reputable press release platforms like PRWeb.com, which GetUWired uses. Lower-end press release sites are flagged as Web spam by Google.
2. Press releases drum up business.
Press releases come up in Google search results when a user searches for a term, so if customers are searching for a product or service that a business offer, that business' press release is likely to end up right in front of them. GetUWired does tens of thousands of dollars a month in business generated by the press releases it sends out.
3. Press releases actually become news.
When a business submits a press release on an online site, it gets distributed to news organizations in areas of the business' choosing, even around the globe. A release that's informative and engaging can go viral, so one submission can end up on thousands of different sites. It may even be picked up by newspapers in the business' area for some free print advertising to boot!
4. Press releases are affordable.
Compared to other forms of advertising, particularly print advertising, press releases are surprisingly affordable. A small business owner can write the release for free and then pay to have it distributed or hire a company that will write and post it for a fee.
GetUWired offers professional press release services.
GetUWired's seasoned copywriter can quickly write and distribute press releases for any business. For more information, call GetUWired today at 877-236-9094 or visit http://www.GetUWired.us.