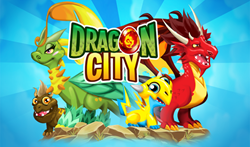 San Jose, CA (PRWEB) August 01, 2014
The developers at Social Point recently distributed a marketing document describing the latest virtues of the Dragon City app's recent optimization for Intel® Atom™ tablets for Android*. The collaboration will bring the exciting simulation game to a growing audience of mobile device users.
The brief highlighted the partnership between Intel and Social Point that allows tablets users to access the vivid, engaging world of Dragon City. The app invites users to collect, breed and train their dragons in a magical Dragon City that individual users can cultivate, customize and expand. The publication noted a wide array of delightful features that Android* users can expect on their high-resolution screens.
This successful joint effort with Intel enables Social Point to engage with a larger base of users than ever before. And as an Intel® Software Partner, the developers enjoy full access to code, support and guidance through the Intel® Developer Zone.
About Social Point:
Founded by Horacio Martos and Andrés Bou in 2008, Social Point is one of the world's leading developers of games for mobile. With a fan base of more than 50 million active monthly players across the world, Social Point's games are consistently in the top-ranking and top-grossing titles, and are delivered by a team of more than 200 international developers, designers and business development professionals. Based out of Barcelona, Social Point is on a mission to connect the world through awesomely fun and immersive gameplay. Find out more at http://www.socialpoint.es.
About Intel Developer Zone
The Intel Developer Zone supports developers and software companies of all sizes and skill levels with technical communities, go-to-market resources and business opportunities. To learn more about becoming an Intel Software Partner, join the Intel Developer Zone.
Intel, the Intel logo and Intel Inside are trademarks of Intel Corporation in the U.S. and/or other countries.
*Other names and brands may be claimed as the property of others.
Copyright © 2014 Intel Corporation. All rights reserved.