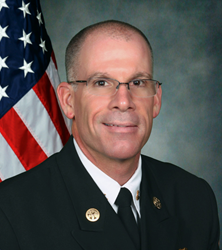 (PRWEB) August 01, 2014
In this newly expanded role, Tim will be responsible for the content and editorial direction of Firehouse Magazine, Firehouse.com, Firehouse Expo, Firehouse World, and related products.
Tim is a 29-year student and educator of the fire and emergency services, having previously served as Editor-in-Chief for FireRescue Magazine and Firefighternation.com. Tim is a past president of the International Society of Fire Service Instructors (ISFSI) and has served as an Assistant Fire Chief with the North Las Vegas (NV) Fire Department, as the Chief of Training for Savannah (GA) Fire & Emergency Services, and as Assistant Fire Chief for Missouri City (TX) Fire & Rescue Services. Tim has earned a master's degree in Leadership from Bellevue University, bachelor's degrees in Fire Administration and Arson, and an associate's degree in Emergency Medical Care from Eastern Kentucky University.
"We are extremely excited that Tim is joining the Firehouse team," said Greg Toritto, Firehouse Group Publisher. "His experience as a firefighter and chief officer, along with his accomplishments as an editor and educator, place Tim in a unique position to develop content initiatives and conference programming that best meet the needs of today's ever-changing and evolving fire service."
As a nationally recognized leader in the fire service, Tim joins longtime editor-in-chief Harvey Eisner, who will serve as Editor Emeritus, along with the rest of the Firehouse editorial staff, to support a unified editorial theme that continues to lead and educate the fire service via Firehouse's multiple media platforms.
"I've known and admired Tim for nearly 10 years as a fire-service leader at the forefront of firefighter safety," said Ed Nichols, VP, Events. "His skills and experience are exactly what we need to lead our brand and properties as we move forward. The opportunity for Tim to lead an accomplished team that includes Harvey Eisner, an icon for over 40 years with Firehouse, as well as Firehouse veterans Jeff Barrington and Pete Matthews, provides us with experience and leadership unrivaled by anyone serving the fire service today."
"I'm honored to join the Firehouse team and I look forward to the opportunity of working together to help train and educate our nation's firefighters while continuing to strengthen and improve the Firehouse brand," added Tim Sendelbach.
Tim will join the Firehouse team on August 1st to begin building on the great work that Firehouse has done to educate and inform the fire service and lead the way in the fire-service media market.
About Firehouse
Firehouse is the leading fire and emergency services brand, reaching more than 800,000 unique visitors and subscribers monthly, and thousands of attendees annually, via its live events and media portfolio. The Firehouse brand encompasses Firehouse Magazine, the Firehouse Tablet Edition, Firehouse.com, Firehouse Expo, Firehouse World, Firehouse Station Design Conference and Awards, and a host of print and digital products targeting fire and emergency services personnel. Utilizing its multiple platforms and unparalleled reach, Firehouse sets itself apart from the competition by fostering a culture that encourages innovation and the use of the latest digital and database technologies to best serve its audience and companies serving the marketplace.
###