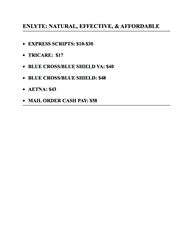 "EnLyte is covered at an affordable copay. The most anyone will pay for EnLyte is $55 per month." Diane Pratt, EnLyte Sales Manager
Sunset, LA (PRWEB) August 06, 2014
JayMac Pharmaceuticals, a Louisiana-based pharmaceutical company, announced today several new managed care wins for its flagship product, EnLyte. Used as a natural, safe option in the treatment of depression, high homocysteine, and other conditions related to folate deficiency, this product has gained strong acceptance in the Psychiatric community as an effective treatment option without side effects or drug interactions. High homocysteine has been linked to many health conditions-such as depression, cardiovascular issues, and dementia- and a homocysteine-lowering agent like EnLyte is a solid addition to any wellness program.
Launched in 2011, EnLyte has a National Drug Code-NDC #-so it is covered by many insurance plans. New coverage and copays include:
EXPRESS SCRIPTS: $10-$30
TRICARE: $17
BLUE CROSS/BLUE SHIELD VA: $40
BLUE CROSS/BLUE SHIELD: $48
AETNA: $43
In addition to being available through retail pharmacies nationwide, patients can also obtain EnLyte through the company's cash pay mail order programs for $55 per month with no additional shipping or dispensing fees, making it the most affordable product in this class: http://www.enlyterx.com/Order%20Enlyte/.
With the costs of healthcare rising, JayMac is committed to keeping EnLyte within reach of the customer. According to Diane Pratt, EnLyte Sales Manager, "EnLyte is covered at an affordable copay. The most anyone will pay for EnLyte is $55 per month."
About EnLyte
EnLyte is an advanced generation, broad spectrum folate therapy containing a patented triad of reduced, brain ready folates, cofactors, and minerals to increase neurotransmitters. It is gluten free, casein free, and dye free, and pregnancy category A. Learn more at http://www.EnLyteRx.Com.