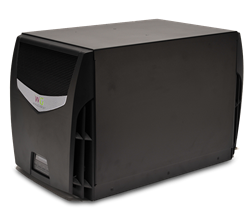 Achieving 100% first-pass yield consistently means we're delivering quality to our customers at lower cost.
(PRWEB) August 04, 2014
Wine Guardian, the world leader in commercial-grade wine cellar cooling systems for homes, restaurants and commercial storage facilities, announced price reductions across its line of Through-the-Wall wine cellar cooling units, with price decreases ranging from 11%-18% on manufacturer's suggested retail price (MSRP). "I am delighted that our efforts to improve production and testing of this particular product will now mean cost savings to our customers," said Ron Caramella, Director of Operations at Wine Guardian.
The effort to build more efficiency into this particular product line was part of Wine Guardian's continual improvement process and focused on three areas: 1) transitioning the product to a dedicated production line, 2) reducing assembly time (cycle-time) without impacting quality, and 3) improving testing time. Transitioning the product to a dedicated production line was the simplest part of the improvement process and ensured production-line employees mastered the specifics of these products, eliminated time changing setup from one product to another, and streamlined the process from pulling parts for specific builds to having a full product assembly line.
Reducing assembly time (cycle time) on Through-the-Wall cooling systems while ensuring consistent quality was a greater challenge. One significant change in the actual manufacture included a joint Operations and Engineering effort to change tubing design to decrease the number of brazes required to manufacture the product. "Each brazing point we were able to remove decreased the time it took to assemble each unit, but it also decreased the number of points we had to test per system," confirmed Ron Caramella.
Finally, the company invested in helium-leakage detectors for the production line. Helium leakage detectors are able to detect very small holes in brazing locations, and discovering those holes at the assembly point means the product can be re-brazed prior to moving to final test. Wine Guardian conducts final test on every unit it manufactures to ensure consistent quality to its customers. The investment in helium leakage detectors has improved first-pass yield (the number of units requiring no rework divided by the number of total units tested during a period of time) to 100% on through-the-wall wine cellar cooling units in recent months. Mr. Caramella explained, "Reworking product always costs more than doing it right the first time. Achieving 100% first-pass yield consistently means we're delivering quality to our customers at lower cost."
And, of course, the Wine Guardian sales team was delighted to learn of the manufacturing improvements. "Any time we can ensure our customers are getting the highest quality cooling system at better price, we are happy," said Mike Militi, Division Manager for Wine Guardian.
About Wine Guardian:
Wine Guardian offers multiple installation configurations for wine-cellar cooling systems — including ducted, ducted split and through-the-wall systems — all with numerous options and sensing, monitoring and alarm capabilities. Wine Guardian systems incorporate cooling, heating, filtration, ducting, internal safety devices and high or low ambient control as integrated solutions. Humidification can be built into the system at the time of order or added separately.
Wine Guardian products are distributed internationally. "Our representatives can help determine which model, capacity and options are optimal for individual wine cellar design and storage needs," Militi said.
Wine Guardian is a registered trademark of Air Innovations, which manufactures Wine Guardian products in New York State. Wine Guardian products are backed by a two-year warranty and factory service hotline team.
For more information on Wine Guardian products or to locate a distributor, visit http://www.WineGuardian.com, call 800-825-3268 in the U.S. and Canada (international + 1 315-452-7407), email info(at)wineguardian(dot).com or follow on Twitter @WineGuardian.