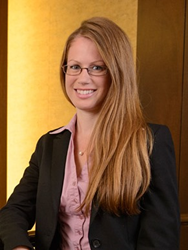 Wilmington Delaware (PRWEB) August 01, 2014
Lindsay J Jennings CPA and Anne R Lane CPA have each been promoted to Manager.
Lindsay started her career as an intern at Gunnip. Her primary focus is the audit and review of construction and real estate entities, law practices, employee benefit plans and nonprofit organizations. She is a graduate of the University of Delaware.
Anne has worked in various accounting positions including working in The Netherlands before coming home to Delaware. Her primary focus is tax, specializing in tax planning strategies and compliance for individuals and businesses. She is a graduate of Colorado State University and earned a Masters in Taxation from Villanova University School of Law.
John M. Leary CPA and Ryan J. Bond have each been promoted to Supervisor.
John started his career with Gunnip in 2008 as a graduate of West Chester University. John is involved on audits, reviews, and compilation engagements in industries including governments, not-for-profits, private schools and privately-held companies.
Ryan graduated from the University of Arizona in 2007. He worked in firms in Tucson before moving to Delaware. Ryan provides tax planning, research and analysis for individuals, and business owners to help grow and maintain their businesses.