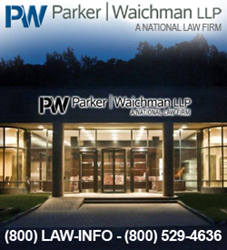 "Our firm continues to investigate cases in which power morcellators may have spread these deadly cancers." said Gary Falkowitz, Managing Attorney at Parker Waichman LLP.
Port Washington, New York (PRWEB) August 01, 2014
Parker Waichman LLP, a national law firm dedicated to protecting the rights of victims injured by defective medical devices and drugs reports that Johnson & Johnson announced it would be recalling its Ethicon surgical power morcellator devices used for the removal of fibroid masses. The device maker sited concerns involving the spread of cancer associated with power morcellators, according to a Reuters report dated July 31, 2014.
Johnson & Johnson had previously ceased the sale and distribution of its Ethicon power morcellators this April and also asked physicians and organizations that had purchased the devices to return them. The recall comes after a review by the U.S. Food and Drug Administration, physicians, and others on the devices, as well as mounting controversy, according to Reuters.
Parker Waichman comments that it is aware of mounting lawsuits brought over potential injuries suffered following the use of morcellator tools during routine medical procedures. The firm indicates that it also understands that minimally invasive gynecologic procedures, in which power morcellators are used, present potential, often fatal, patient danger and reduced longevity. Parker Waichman is available to assist women who have suffered injury, or the loved ones of women who have suffered injury, following these procedures.
For example, a couple recently brought a lawsuit over allegations that the woman's concealed, aggressive leiomyosarcoma spread through her body after a power morcellator was utilized during her routine laparoscopic supracervical hysterectomy procedure. That lawsuit was brought against Richard Wolf Medical Instruments Corporation over the Wolf Power Morcellator. The lawsuit was brought on behalf of Sarah Salem-Robinson and her husband, Alan A. Robinson, in the Northern District of California on May 13, 2014 (Case5:14-cv-02209-PSG).
Two weeks after the procedure, the woman was advised that one of her fibroids was, in fact, a uterine leiomyosarcoma, a rare and aggressive form of a so-called "occult" cancer, according to a report dated July 9, 2014 by The Washington Post. The woman was diagnosed with four lesions on one lung that, according to her lawsuit, are likely metastatic leiomyosarcoma resulting from the morcellator.
The U.S. Food and Drug Administration (FDA) then issued a warning on April 17, 2014 regarding power morcellator use during minimally invasive hysterectomies (uterine removal) or myomectomies (uterine fibroid removal), indicating that power morcellators may spread a hidden cancer. This spread may lead to a significant worsening of a patient's prognosis and long-term survival. According to the FDA, laparoscopic power morcellators break up pieces of tissue during surgical procedures. This enables facile removal of the tissue through tiny incisions that are made in the body. The agency communication also indicated that power morcellators, when used in women who have an occult uterine sarcoma (cancer), may spread that cancer to other parts of the body.
Following the FDA's warning, Johnson & Johnson, which is the largest maker of morcellator devices, announced it was discontinuing its power morcellator lines worldwide, including the "Gynecare Morcellex," "Morcellex Sigma," and "Gynecare X-Tract," according to an April 29, 2014 The Wall Street Journal report. Also, several hospitals, such as the Cleveland Clinic, have ceased using power morcellators since the FDA recommendation was issued, according to The Washington Post.
A statement issued by an Johnson & Johnson Ethicon spokesperson indicated that "Due to this continued uncertainty, Ethicon believes that a market withdrawal of Ethicon morcellation devices is the appropriate course of action at this time until further medical guidelines are established and/or new technologies are developed to mitigate the risk," according to the Reuters report.
"Thousands of women undergo minimally invasive surgeries for hysterectomy or uterine fibroid removal annually. These women are often unaware that use of power morcellators during their procedures may spread a hidden, aggressive tumor," said Gary Falkowitz, Managing Attorney at Parker Waichman LLP. "Our firm continues to investigate cases in which power morcellators may have spread these deadly cancers."
Parker Waichman LLP offers free legal consultations to victims of injuries allegedly caused by medical devices, including morcellator devices, and injuries allegedly suffered during fibroid removal. If you or a loved one experienced injuries during a fibroid surgery that might be associated with a morcellator device, please contact the Firm at its Power Morcellator page at yourlawyer.com. Free case evaluations are also available by calling 1 800 LAW INFO (1-800-529-4636).