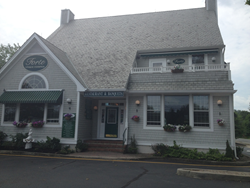 Point Pleasant, NJ (PRWEB) August 01, 2014
Immediately being greeted by the owner with a handshake and a smile is what customers experience when dining at Mediterranean eatery, the Forte Restaurant. Located on Bridge Avenue in Point Pleasant, New Jersey, the nineteen year old business is known as the Cheers of the Jersey Shore town with friendly service and frequent customers.
A veteran chef from Turkey, owner Jon Ucal's career began as a cruise ship chef constantly traveling at sea and once in the States, as the manager of a Jersey Shore establishment seeing familiar faces every day. "Most of our business is repetitive," said Ucal. "Most customers say 'let's go see Jon' and they don't even mention the Forte Restaurant."
The local hotspot was opened in 1995 by Jon and his chef, Marco Vinas. Both gentlemen previously had worked together at another restaurant. Together they have created a warm and inviting eatery making interacting with the customers a main priority. "It's a European way to run a restaurant," said Ucal. For most restaurants it's the chef that makes the restaurant, but here it's the staff that makes the restaurant."
The first floor of the restaurant is where the bar is located and two small dining rooms. The second floor dining room handles ala carte overflow but is primarily used for banquets and entertainment. Entertainment includes live music, dinner shows, belly dancing and more; all with a European flavor. Thursdays feature 'Bring Your Own Wine' nights where guests are invited to bring their favorite wine to dine, making them feel comfortable and like they are at home. "The people who come here really care about the place," said Ucal. "They belong to the Forte Restaurant and when they come here they feel at home. Anywhere else they would just eat and leave but it's not like that here."
The Forte Restaurant is also winner of multiple Asbury Park's "Best of the Best" awards recognized for their dining, happy hour menu, and banquet facilities. "We have very loyal customers," said Ucal. "So many restaurants in the area have come and gone but we've stayed strong because of our customers."
Forte Restaurant is open Monday through Friday for lunch and dinner from 11:00 am to 11:00 pm and weekends from 3:00 pm to 11:00 pm. Banquet facilities accommodate up to ninety guests. Take-out is also available. To plan an event or make a reservation, visit their website at http://www.forteuniquecuisines.com/index.html or call 732.899.5600.
About Bielat Santore & Company
Bielat Santore & Company is an established commercial real estate firm. The company's expertise lies chiefly within the restaurant and hospitality industry, specializing in the sale of restaurants and other food and beverage real estate businesses. Since 1978, the principals of Bielat Santore & Company, Barry Bielat and Richard Santore, have sold more restaurants and similar type properties in New Jersey than any other real estate company. Furthermore, the firm has secured in excess of $500,000,000 in financing to facilitate these transactions. Visit the company's website, http://www.123bsc.com for the latest in new listings, property searches, available land, market data, financing trends, RSS feeds, press releases and more.