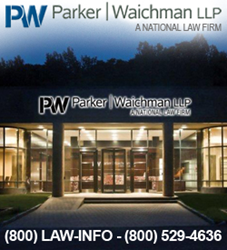 Port Washington, New York (PRWEB) August 04, 2014
Parker Waichman LLP, a national law firm dedicated to protecting the rights of victims injured by defective drugs and medical devices, reports that the plaintiffs who recently won a $9 billion punitive damages award in the first federal bellwether trial involving Takeda Pharmaceutical's diabetes medication, Actos, say the verdict should be upheld. According to the plaintiffs, no rule exists that punitive damages must be in, what the National Law Journal described as, a "single-digit ratio with compensatory damages." The consolidated Actos cases in Louisiana are In Re Actos (Pioglitazone) Products Liability Litigation, 11-md-02299. The bellwether case is Allen v. Takeda Pharmaceuticals North America Inc., 12-cv-00064. Both cases are in U.S. District Court, Western District of Louisiana (Lafayette).
Parker Waichman LLP has maintained a leadership role throughout the Actos litigation with Jerrold S. Parker, founding partner of the law firm, serving on the Plaintiffs' Steering Committee.
According to court documents, the plaintiffs in the first Actos bellwether trial, Terrence and Susan Allen, alleged that Mr. Allen was taking Actos for his Type 2 diabetes from 2004 through 2011. Mr. Allen developed bladder cancer in 2011. According to the lawsuit, Mr. Allen alleges that Actos caused the cancer, that Takeda Pharmaceuticals Co. concealed risks associated with Actos from the public, and that he never would have taken Actos had he been informed of these risks. Approximately 2,700 lawsuits have been filed into this Actos multidistrict litigation (MDL No. 2299), with the Honorable Rebecca F. Doherty, presiding.
Takeda Pharmaceutical Co. was ordered to pay $6 billion, and Eli Lilly & Co. was ordered to pay $3 billion, respectively, in the consolidated Actos cases in Louisiana. (In Re Actos [Pioglitazone] Products Liability Litigation, 11-md-02299). An April 8, 2014 article in Bloomberg News indicated that the $9 billion jury award is the seventh largest in United States history.
Takeda Pharmaceutical Co. Ltd. and Eli Lilly and Co. have moved for a new trial under Federal Rule of Civil Procedure Rule 59 and judgment as a matter of law under Rule 50, according to the July 28, 2014 National Law Journal report, which also noted that the 2013 net worth for Takeda was $23.7 billon, while Eli Lilly's net worth was $17.6 billion. Actos generated $24.2 billion in sales from 1999 until 2012, the plaintiffs alleged, also noting that the $9 billion represents just 37 percent of the Actos-generated monies in the United States, alone.
The jury in the Actos bellwether trial found for the plaintiffs indicating that the plaintiffs were due $1.5 million in compensatory damages and $9 billion in punitive damages. The plaintiffs have also indicated that said there is a significant amount of evidence supporting the jury's finding of inexcusable behavior, which included Takeda's not complying with a 2002 litigation hold to preserve evidence, wrote the National Law Journal. The judge found that Takeda acted in bad faith by destroying evidence that revealed it was aware of Actos' potential health risks.
Parker Waichman is actively involved in the Actos litigation and has filed lawsuits on behalf of numerous individuals who developed bladder cancer, allegedly due to taking Actos. These mounting complaints highlight an increasing level of evidence that reveals that use of Actos is related to a significantly higher risk of developing bladder cancer. For example, the U.S. Food and Drug Administration(FDA) warned in 2011 that using Actos for more than one year could substantially raise this cancer risk; patients with bladder cancer were advised to not use the drug.
Parker Waichman LLP continues to offer free legal consultations to victims who suffered bladder cancer after using Actos. If you or a loved one were diagnosed with bladder cancer after taking Actos, please contact the Firm by visiting yourlawyer.com. Free case evaluations are also available by calling 1-800-LAW-INFO (1-800-529-4636).