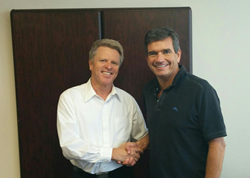 "We are really pleased to join a company with such dedication to their customers, I believe that we will be able to continue to build on our reputation for great service and focus on the customer as part of Performance Mobility."- Stan Nystrom
Denver, CO (PRWEB) August 06, 2014
Performance Mobility has expanded its service area into Phoenix, Arizona with the acquisition of Handicap Vehicle Specialists (HVS), a company with a 25 year reputation for excellence in customer service and expertise in mobility products. HVS carries a full line of mobility brands and specializes in the BraunAbility conversion of wheelchair accessible vans. Stan Nystrom, the President of HVS, stated "We are really pleased to join a company with such dedication to their customers, I believe that we will be able to continue to build on our reputation for great service and focus on the customer as part of Performance Mobility." The combined company will operate under the name Performance Mobility and Mr. Nystrom will continue to lead the store in a management capacity.
With the acquisition, Performance Mobility gains a location in the greater Phoenix, Arizona region. The store in Phoenix will complement the southwest region area stores that also include the three locations in the state of Colorado. There are now a total of eight Performance Mobility locations in Arizona, Colorado, Utah and Oregon to assist you with all of your mobility needs. Kevin Durban, the President of Performance Mobility said, "We continuously strive for new ways to expand our services and reach for our customers. We are really pleased to have such a quality company as HVS join us in our mission to serve the community."
Another exciting addition to Performance Mobility is the new association with the Accessible Vans of America brand for wheelchair accessible van rentals. Performance Mobility will continue to offer a diverse line-up of BraunAbility wheelchair accessible vehicles and wheelchair lifts, as well as other mobility accessories. The dealership also offers products from Mobility SVM, BRUNO, MPS, Sure-Grip, EMC and wheelchair vans for short-term or long-term rental.
To find out more about Performance Mobility, please visit our website at http://www.PerformanceMobility.com Performance Mobility has locations in Phoenix, AZ, Portland, OR, Eugene, OR, Salt Lake City, UT, Denver, CO and Colorado Springs, CO.
Performance Mobility is a leading provider of new and used wheelchair accessible vans, wheelchair rental vans, hand controls, high tech driving equipment and specialized mobility seating for individuals with limited mobility. Performance Mobility has over 24 years of continuous operation with service to the disabled community, providing sales and service of new and pre-owned wheelchair accessible vans, wheelchair van rentals, scooter lifts, specialized seating, hand controls and other products to facilitate transportation for individuals with mobility challenges.