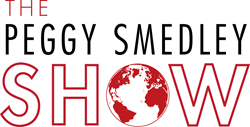 Carol Stream, IL (PRWEB) August 04, 2014
Protecting and securing the nation's infrastructure from cybercrime is what the newly appointed Deputy Commander of U.S. Cyber Command at Fort Meade, Maryland, Lieutenant General James McLaughlin, and other cyber security experts will discuss on The Peggy Smedley Show, August 5 beginning at 11 a.m. CT. During the hour-long interview, the General will speak on cybercrime and explain his plans for cyber security in relation to his new role and making the country just a little safer.
Following his interview at 12 p.m. CT, The Peggy Smedley Show will be joined by guests Ed Scheidt, former chairman of the CIA Cryptographic Center, and chief scientist, senior vice president, Tecsec; Bob Butler, chief security officer, IO and former deputy assistant secretary of defense for cyber policy; and John Carbone, senior advisor and engineering fellow, intelligence, information, and services division, Raytheon, who will explain what action needs to be taken to secure our infrastructures and our personal data to eliminate potential breaches made by hackers.
Cybercrime has become a pressing issue in the U.S.. Consider for a moment all of the personal information that is hacked online; now think about protecting the country's infrastructures such as finance, power, fuel, and transportation. Does the U.S. really have the security necessary to protect our most critical infrastructure? In 2013, The Brooking Institute Center for 21st Century Security and Intelligence reported, "The level of cybersecurity awareness and culture in U.S. port facilities is relatively low and that a cyber attack at a major U.S. port would quickly cause significant damage to the economy."
General McLaughlin's interview on The Peggy Smedley Show will give insight on the nation's issues with cybersecurity. During the radio show, he will discuss the importance of cyber hygiene and what he has been doing in his former role as commander of the 24th Air Force and commander of the Air Force Cyber.
During the entire month of August, The Peggy Smedley Show will feature some of the foremost cybercrime experts including, guests from noHold, BeyondTrust, United Services Automobile Assn., Koolspan, Dell SecureWorks, and Southwest Research Group.
"It is important to educate the country about cybercrime because it happens more often and more easily than would've been imagined," says Peggy Smedley, host of The Peggy Smedley Show and editorial director of Connected World magazine. "By increasing the nation's awareness, even bigger steps can be taken to make hackers' tasks more difficult than ever before. If more people are aware about cybersecurity, the nation can stand together and protect the information and infrastructures."
To listen to General James McLaughlin live on The Peggy Smedley Show, go to http://www.peggysmedleyshow.com on Tuesday, August 5 at 11 a.m. CT and click "Listen Live."
About The Peggy Smedley Show
As the voice of M2M and connected devices, The Peggy Smedley Show is an entertaining, yet fun, resource for listeners looking to understand the issues and challenges of implementing the newest technologies both in the workplace and at home. Broadcast live each Tuesday from 12 p.m. - 1 p.m. CT on wsRadio.com, host Peggy Smedley brings her years of experience, knowledge, analysis, and sense of humor to each show. The Peggy Smedley Show features discussions with top-tech thinkers and newsmakers, offering in-depth analysis, while sharing the hottest connected-device stories and trends. To learn more, or to hear current or past shows, please visit http://www.peggysmedleyshow.com.