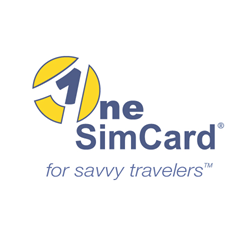 Boston, MA (PRWEB) August 05, 2014
OneSimCard, a leading global provider of low cost international mobile roaming services for businesses and leisure travelers, announced today that the new OneSimCard Data & Roam is now available for purchase on the OneSimCard website.
The OneSimCard Data & Roam provides internet data connectivity in over 160 countries worldwide at very low rates starting at $0.10 per MB. Similar to the OneSimCard Plus, the OneSimCard Data & Roam is a pre-paid service which does not require any contract and has no connection fees, subscription fees or monthly maintenance fees. The customer is only charged for the services used.
The OneSimCard Data & Roam allows users to comfortably use international data services when traveling abroad. The last few years have seen enormous growth in the usage of smartphones and internet enabled mobile devices, but recent data shows that close to 70% of Global Roamers still turn off their data services when traveling internationally. The main reason for turning off international data service is the fear of a huge roaming bill. The OneSimCard Data & Roam removes that fear by both providing low internet data rates and a prepaid real time billing platform which allows users to immediately monitor their international data costs.
OneSimCard works worldwide in unlocked GSM devices and phones. The user simply replaces their domestic carriers' SIM card with OneSimCard when traveling internationally. All users can replace their own SIM cards in just a few seconds. Once the OneSimCard is in use, travelers avoid the high international roaming charges they incur when using their regular carriers' services abroad. On average, OneSimCard customers enjoy a savings of about 85% when using OneSimCard mobile services internationally as compared to standard international roaming fees.
In addition to great internet data rates the OneSimCard Data & Roam also offers text messaging and voice services in some select countries and OneSimCard's best voice rates in Canada and Brazil.
To learn more about the OneSimCard Data & Roam go to: http://www.onesimcard.com/international-sim-card/.
About OneSimCard
OneSimCard (onesimcard.com), a division of Belmont Telecom, Inc., is a leading provider of mobile service for international travelers offering low-cost voice, text and data service worldwide. OneSimCard saves travelers 85% on international roaming charges compared to their regular domestic mobile carrier and has been widely acclaimed by mobile industry and travel experts, including those from The New York Times, Washington Post, Boston Globe and PC Magazine.
Media Contact:
Roy Heimowitz
OneSimCard
(617) 313-8888 x412
Roy(dot)heimowitz(at)onesimcard(dot)com
http://www.onesimcard.com