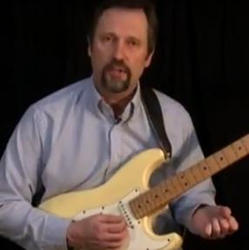 (PRWEB) August 02, 2014
A "riff" is the catchy part of a song that sticks in your head. One of the most recognizable guitar riffs of all time is "Smoke on the water" by Deep Purple.
Tony demonstrates this easy blues guitar riff with triads of the ninth chord and how they tie into sixth chord triads by sliding a D#6 (D sharp six) into an E6 triad and then to a D9 triad. This concept is a staple of the Chicago Blues sound and Tony continues this easy blues guitar lesson by performing it over a backing track so you can hear the concept in the context of the style. Guitar TAB's are available for this cool blues rhythm guitar lesson at GuitarControl.com.
A Triad is a three note chord. A Major Triad consists of the Root Note, the note that a chord derives its name from, the Third (Major Third) and Fifth (Perfect Fifth) notes of the Major Scale. Other notes from the scale can be substituted to create alternative chord voicings such as 7th and 9th chords for styles such as jazz and blues.
Tony Keck
National award-winning artist, Tony Keck, performs a unique style of guitar skills developed through years of studying various styles of music. Using his blues based tapping technique; he creates a soulful, meditative sound that mesmerizes a diverse audience. His instrumental influence has created a combination of intermixing classical ting, blues, pop and jazz. His wide variety of musical experiences, such as a national finalist in the Guitarmageddon Competition at the House of Blues and entertaining the troops in South East Asia, has made him recognized for his distinctive compositions of sound.
About GuitarControl.com
GuitarControl.com is the leader in modern guitar instruction. It's packed with resources including articles, video lessons, and the best videos in the business for the beginner to the advanced guitar student taught by the best instructors out there. Weather you are into the blues, rock, jazz, metal, folk, or anything in between, they have you covered.