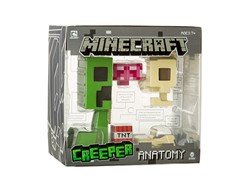 San Diego, CA (PRWEB) August 04, 2014
J!NX has launched one of the most anticipated products in geek and gaming for 2014. The Minecraft Creeper Anatomy Vinyl toy was previewed at MINECON 2013 in Orlando, FL and is now available for purchase at JINX.com. This 8" tall vinyl toy disassembles into 7 parts to provide a detailed look at a Creeper's complex physiology. This is J!NX's most ambitious toy to date and is sure to be the top gift this holiday season.
To accompany the launch, J!NX has created a video for this new addition to the vinyl toy lineup. This is available for viewing on the J!NX YouTube channel. Conceptualized, filmed, and edited by the J!NX Creative Team and based on a 50s science-fiction alien autopsy, the video expands on the thought process behind the design of the Creeper Anatomy Vinyl toy.
The new Creeper Anatomy Vinyl toy is now available for purchase at http://www.jinx.com/creeperanatomy as well as at Toys''R''Us. MSRP is set to $39.99.
About J!NX:
J!NX is a lifestyle clothing brand for gamers and geeks. J!NX represents an immersion into all forms of gaming, the interwebz, giant robots, spaceships, gadgets, comic books, dragons, rolling dice, and collecting things. Their office contains an abundance of toys and passionate nerds. J!NX is located in sunny San Diego, CA. For more information visit http://www.JINX.com.