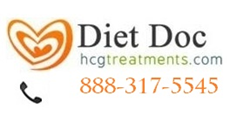 Unlike other online diet plans, Diet Doc guides and monitors their patients until the last ounce of fat has melted from their body.
Wilmington, DE (PRWEB) August 04, 2014
By joining forces with the national Telemedicine system, Diet Doc now has the ability to help patients in any part of the country lose unhealthy and embarrassing excess fat. Even those who have battled a lifelong struggle with weight loss can now shed pounds and inches safely and successfully from the comfort of their own home with constant professional guidance and Diet Doc's online diet plans.
Telehealth allows patients access to the best health care and weight loss in the nation, allowing them to patronize physicians of their choice without costly and time consuming visits to doctor's offices and weight loss clinics. This modern approach to health care and medical weight loss offers patients the opportunity to seek health care and medical weight loss from doctors nationwide.
The range of Telehealth is practically unlimited. Currently, patients who are interested in healthy, safe and fast weight loss can contact a Diet Doc physician via telephone, and almost any platform, including laptops, tablets, and smartphones that have access to a Skype account to schedule doctor consultations and work with Diet Doc's nutritionists. For added convenience, patients can also choose to have diet products and supplements delivered directly to their door.
Interested patients will complete a confidential health questionnaire and schedule an online consultation with a Diet Doc physician. This personal contact informs the doctor of the patient's medical history and directs them toward any internal imbalance or improperly functioning organs that may be causing weight gain or hindering fast weight loss. These issues will be immediately addressed when developing the patient's personalized online diet plan and will finally allow the patient to see the fast weight loss results they have been struggling to achieve with other online diet plans.
Diet Doc's certified nutritionists will work closely with patients to develop low fat, low carb online diet plans that are easy to follow and interesting. Patients can continue to enjoy some of the foods that they love while learning to incorporate healthier, low fat foods into their diet that, when combined with Diet Doc's hormone treatments and supplements, generate fast weight loss while leaving patients feeling full and satisfied.
Unlike other online diet plans, Diet Doc follows and monitors their patients throughout with scheduled weekly checkup calls to access attitude, comfort level and weight loss progress. This personal communication enables the doctors to make medication adjustments if weight loss begins to taper.
Diet Doc offers incomparable services to dieters in any part of the country, delivering consistent effective prescription hormone diet plans directly to patients' doors. The company's in-house medical fast weight loss experts guide every patient through their personal health journey and are available 6 days per week to answer questions, offer healthy meal planning ideas or simply to lend their unlimited support and encouragement.
Diet Doc encourages patients in even the most remote regions of the country to call the nation's leader in medically supervised fast weight loss and online diet plans to schedule a confidential and free consultation.
About the Company:
Diet Doc Weight Loss is the nation's leader in medical, weight loss offering a full line of prescription medication, doctor, nurse and nutritional coaching support. For over a decade, Diet Doc has produced a sophisticated, doctor designed weight loss program that addresses each individual specific health need to promote fast, safe and long term weight loss.
Diet Doc Contact Information:
Providing care across the USA
Headquarters:
San Diego, CA
(888) 934-4451
Info(at)DietDoc(dot)info
http://www.dietdoc.com
Twitter: https://twitter.com/DietDocMedical
Facebook: DietDocMedicalWeightLoss