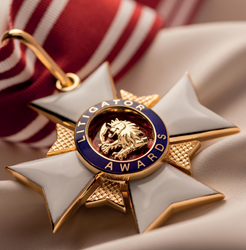 Litigator Awards Presented Across 72 Practice Specialties
BELLEVUE, WA (PRWEB) August 03, 2014
The Litigator Awards redefine America's perception of the way the nation sees and honors Trial Lawyers. They have been compared to a knighthood on Britain, or even the French Legion of Honor. As the only national Trial Law Rating based solely on "Litigation Achievement" rather than popularity, they stand as the most respected and sought after Award Rating anywhere.
The 2014 Litigator Awards will honor extraordinary "Litigation Achievement" in up to 72 Practice Specialties categories, representing a core range of specific fields expertise. Nominees are eligible to receive the Award Rating in as many as six Practice Specialties. For the public, referring professionals and their trusted clientele, the Awards provide a candid assessment of each Law Firms expertise, and an objective grade of their demonstrated past "Litigation Performance" by Practice Specialty - all of which help identify "Best-In-Class" Trial Lawyers.
Presenting unrivaled Public Relations opportunities, the Awards bear witness to extraordinary Litigation Achievement in:
General: Medical Malpractice, Personal Injury, and Wrongful Death.
Medicine & Drugs: Anesthesia Complications Anesthesia Complications, Birth Injury, Cerebral Palsy, Cosmetic Surgery, Harmful Drugs, Medical Misdiagnosis, Nursing Home Malpractice, Pharmacy Liability, and Surgical Error,
Defective Medical Devices: Defective Medical Devices, Biomet Hip Replacement, DePuy Hip Replacement, GranuFlo and NaturaLyte, Guidant Heart Devices, Medtronic Infuse Bone Graft, Mirena, NuvaRing, Ortho Evra, Renu, Smith & Dephew Hip Replacement, Stryker Hip Replacement, Vaginal Mesh, Wright Hip Replacement, and Zimmer Knee Replacement.
Transportation & Pedestrian: Automobile Accidents, Boat & Watercraft Accidents, Cruise Ship Accidents, Motorcycle Accidents, Pedestrian Accidents, Public Transportation, Railroad Accidents, Recreational Vehicles and Truck Accidents.
Catastrophic Injury: Amputation Injury, Brain Injury, Burn Injury, and Spinal Cord Injury.
Abuse & Discrimination: Child Abuse & Molestation, Clergy Abuse, Nursing Home Abuse, and Sex Abuse & Discrimination.
Aviation & Mass Torts: Aviation Accidents, Mass Torts, and Mining Accidents.
Commercial Litigation: Business Torts & Fraud, and Commercial Litigation.
Products Liability: Auto Defects, and Products Liability.
Construction: Construction Accidents, and Construction Defects.
Dangerous Conditions: Amusement Park Liability, Dog Bites, Drowning Accidents, Food Poisoning, Liquor Liability, Negligent Security, Premises Liability, School Accidents, and Slip & Fall Cases.
Insurance & Whistle Blower: Insurance Bad Faith, and Whistle Blower / Qui Tam.
Civil Rights: Civil Rights, False Arrest & Imprisonment, Police Brutality.
Defamation: Defamation
Social Security : Social Security
Toxic & Environmental: Asbestos & Mesothelioma, Cigarette & Tobacco, Industrial Disease, Oil Spill Litigation, and Toxic & Environmental.
Labor & Employment: Employee Discrimination, Workers Compensation, Workplace Intentional Torts , and Wrongful Termination.
Intellectual Property: Patent Litigation, and Trademark & Copyright.
Class Action: Consumer Class Actions
City & Public Liability: City & Public Liability
Stocks & Investments: Stocks & Investments
The 2014 Litigator Awards culminate with a National Presentation in January. Potentially reaching millions, the event will consist of a publicity extravaganza across top-tier media networks planned to include: CNN, ABC, and CBS.
To learn more go to: LitigatorAwards.com