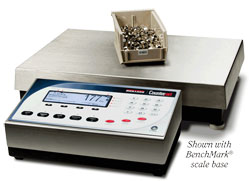 Rice Lake, Wisconsin (PRWEB) August 06, 2014
Rice Lake Weighing Systems launches a web-based resource designed to teach the basics of counting scales, how to properly use a counting scale, and resources to purchase or rent a counting scale. Counting scales can benefit those looking to:

Reduce labor time. Counting parts and identifying boxes requires extensive manual labor.
Save money on materials. Shipping too many or too few parts can mean losing money or losing a customer
Accurately count inventory. Cycle counting improves inventory accuracy, which in turn, can result in increased productivity
Have better customer service. Having the right parts at the right time is essential for excellent customer service.
From the receiving area to the stockroom, production, and quality control, counting scales have a tremendous impact on your bottom line. Visit http://www.ricelake.com/counting for more information on the basics of counting scales and how to purchase or rent one for your application.
Rice Lake Weighing Systems is an international leader in the manufacture and distribution of weight-related products and process-control equipment. Within this ISO 9001 registered company, progressive new technologies merge with the wisdom of industry experience and create the future of weighing through cutting-edge research and design.